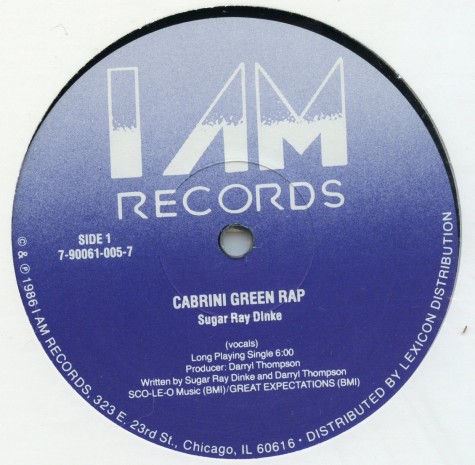 How many of you remember or even know about this track?  It was released in 1986 on I AM Records, which was then located on 323 E. 23rd Street.  I don't know a whole lot about Sugar Ray Dinke, or what became of him and his rap career, but I do know this was one of Chicago's earliest recorded rap songs.  It's a cross between house and early-Run DMC.
Today, I came across a dope write up on this track at Werner Von Wallenrod's (via noz's Tumblr), entitled "The Notorious Cabrini Green" and I wanted to share…
If anyone knows the whereabouts or additional history of Sugar Ray Dinke, feel free to post below.
Remember the movie Candyman? Remember how the horror of a killer ghost with a hook for a hand and bees in his mouth was amplified by the scary, urban location: "a notorious housing project" (that's how they refer to it on the box)? Well, interestingly, they didn't just make up a generic "ghetto" set in some LA back-lot… They filmed in the very real Cabrini Green, and referred to the place by its real name throughout the film. Even the plot-point that the medicine cabinets led directly into peoples' neighbors' apartments was real, which led to a real series of murders.

Well, almost a decade before Clive Barker and co. turned Cabrini Green into a horror landmark, Chicago rapper Sugar Ray Dinke did his part to put the place on the map with his only 12″ single on I Am Records. Produced and co-written by Darryl Thompson, "Cabrini Green Rap" dropped in 1986 and, while it naturally sounds dated, it doesn't sound as dated as you'd expect for an otherwise unknown local rap single from 1986. It's certainly got all the 80's trappings: big beatbox drums, electro sounds, metalish guitars in the vein of the trends Run DMC and Statesasonic were setting (though not so extreme or "rockish" as those), and a boatload of hand-claps. Oh, and the MC's vocals are echoed to make it sound like there's two rappers saying everything in unison. But it all holds up surprisingly well, a testament to the talents of Mr. Thompson evidently.
Andrew Barber
12