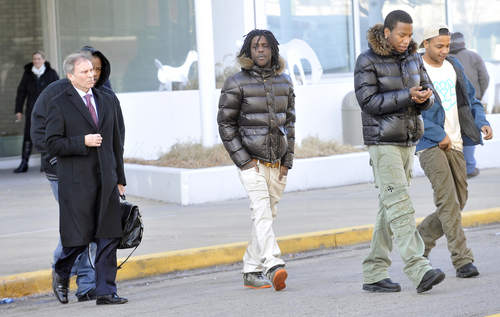 $6 Million? Six million dollars? That's what court records are saying Chief Keef's record deal with Interscope is worth. But as many guessed, it's all based on incentives — it's not just a one time fee of six millie. Since Keef is a juvenile, court approval was needed to release the terms of the deal to the public, and today DNAInfo did just that:
The teenage rap star won't be able to spend most of his big-money pay check until he turns 18 in August, DNAinfo.com has learned.

Chief Keef signed a three-album contract — and a separate deal to control his own record label — with Interscope Records that could pay the South Side gangster rapper more than $6 million over three years. A split of future royalties could make for an even bigger pay day, according to court papers…

…Interscope agreed to pay Chief Keef a $440,000 advance — half up front and half after a judge signs off on the deal — that will be deposited in a court administered trust fund on his behalf, according to court papers. The so-called "blocked trust" is controlled by Chief Keef's legal guardian, his grandmother, Margaret Carter. Withdrawals typically are prohibited from block trusts until a minor turns 18.
Chief Keef — who is currently locked up in juvenile detention for 60 days according to public records free to anyone to search through — also received at least $300,000 to cover the cost of recording "Finally Rich," which sold 50,000 copies during the first week it was released in December.

Chief Keef's deals all depend on album sales. If "Finally Rich" doesn't sell at least 250,000 albums by December 2013, Interscope has the right to pull the plug on subsequent album releases — two albums and a compilation of hits, according to the deal.

In a separate three-year deal to establish Chief Keef's record label "Glory Boyz Entertainment" — GBE for short — Interscope Records forked over another $440,000 advance. That agreement calls for both Chief Keef and his manager, Rovan Manuel, to each be paid $180,000. The deal calls for 15-percent of Chief Keef's advance to be put in his trust fund, according to court papers.
More details, including the involvement of Fredo Santana and others can be found at DNA's site. This is crazy stuff.