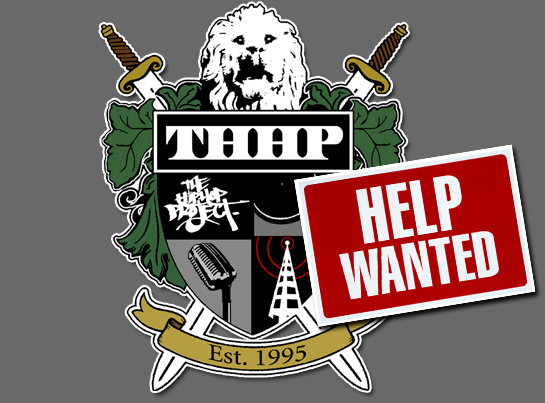 Words by Cosm Roks (@THHP)
Fine readers of Fake Shore Drive:
It's been a while since I've checked in with any contributions/proejcts but I wanted to give everyone a heads up that my former radio show, The Hip-Hop Project, is currently seeking volunteers to help keep one of Chicago's longest running Hip-Hop shows on the air. Here's a little background of how I got involved with the radio show 15 years ago…
I first walked through the doors at WLUW in 1998. I was already a huge fan of The Hip-Hop Project radio show. Like other shows of its era (Six Feet Unda w/ Vaughn C and DJ 3rd Rail, JP Chill on WHPK, Time Travel with Kevin Beacham) THHP brought the best selection of underground Hip-Hop to the airwaves. However, the part I enjoyed most as a high school kid was the fact that I didn't have to stay up into the wee hours of the night listening to it. The hosts of the show (Lional Freeman and Ismael Seguban) sollicited a call out to anyone who might be interested in contributing to a monthly newsletter showcasing local artists and writers. I sent some graf sketches and a letter saying how much of a fan I was.  Not long after receiving my letter, Brotha El and Ish brought me in to assist with the THHP monthly newsletter.
I did some artwork and wrote an occasional article. Soon after I began helping out on the show itself. Mostly grunt work like running to White Hen for snacks and organizing the record collection. Not long after I started purchasing vinyl for the sole purpose of having it played on the show. I didn't own turntables at the time, so it was my way of contributing. Fast forward 2 years, Ismael graduated and Lional wanted to move on to pursue his own music career. I was handed the keys to the car. At seventeen years old, I was hosting one of Chicago's most respected Hip-Hop shows.
There were some growing pains along the way. I basically went through puberty on the radio for the Hip-Hop community to hear. It was awkward, unprofessional, and more often than not: juvenile. My close friends Roper,  DJ Ternaround and DJ Eves all joined the show and we began to settle in and find our niche. Our formula was simple, do a Hip-Hop show as if we were doing it for ourselves only. For a time, it felt like that was exactly the case. Listeners started to catch on to what we were doing. Playing real Hip-Hop music with no gimmicks while having fun while doing it.
The WLUW studios were then located in the heart of downtown Chicago. Anyone who was anyone stopped by to play their music. Since our timeslot was 7:30-11:30pm, we could not play unedited music. Artists would come by and "try" to live edit their songs on the air. We were doing what the blogs do now back when everyone just had dialup internet. Needless to say, it didn't always work. There were nights where the studio would be packed wall to wall with some of Chicago's most talented MC's/DJ's/Producers.  Rappers would come in and record demos in our extra studio space. The studios became so packed that Loyola University security was not pleased.
I took some heat from my bosses, but we continued to do our part to build up the underground Hip-Hop scene in Chicago. From 1998-2010 I worked tirelessly to improve the radio show and the culture itself. I built up a catalog of over 15,0000 radio edited songs, most of which I edited myself. Over the years I have met some of the greatest people/listeners you can imagine, interviewed rap legeneds, and made life long friends. We collaborated on mixtapes with some of Chicago's most talented artists and even got national recognition when we worked with Freddie Foxxx and DJ Premier, and Evidence of Dilated Peoples.
However, I eventually burned myself out. The years of politics, lack of compensation, and overall change in direction of the Chicago Hip-Hop would take its toll. My final show was our 15 year anniversary show in November of 2010. The culmination of all those years of hard work would become one of the best nights of my life. Soon after, most of the remaining staff of The Hip-Hop Project left as well. I became more career oriented (I now produce The Boers and Bernstein Show on 670 The Score) and I also got married. Leaving the show was something I didn't necessarly want to do, but for me it was what I needed to do to get my life in order.
Since the departure of myself, DJ Eves, DJ Monky, and DJ Ternaround, the show has lost its identity. After an absence of a few years, Roper came back to try to pull everything back together. We even shortened our timeslot to 10pm-12am on Saturdays to help lighten the load, but The Hip-Hop Project still needs help. The Hip-Hop Project is currently seeking indviduals who love Hip-Hop culture and want to assist in improving Chicago's scene while taking one of Chicago's most respected Hip-Hop radio shows to the next level. Ideally, we would like someone who is passionate about the future of Hip-Hop while still paying respect to its history. We are ridiculously short staffed, so if you are interested in helping us push towards our 20 year anniversary please contact Roper Fuentes (thelandlords@me.com).  There will be more information regarding an open house during the coming weeks.
Category: Chicago