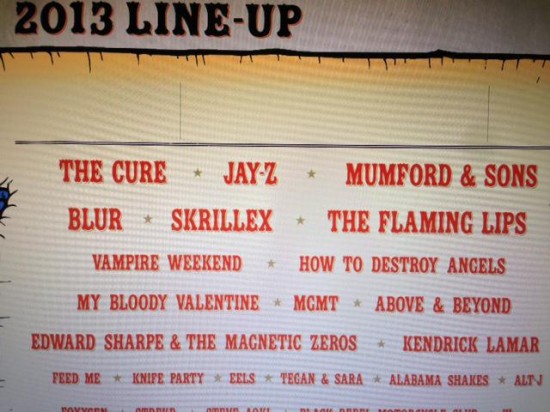 Like we always do about this time…
And so it begins. Tonight, the first incarnation of the 2013 Lollapalooza lineup sprung a leak. This happens every year, and for the most part, it's always bullshit. Of course a handful of the acts actually wind up on the bill (law of averages?), but for the most part, it's a good old fashioned send off.
But even if the hip-hop acts suck I still hit Lolla every summer, and contend that it's the best weekend of the year to live in Chicago. But if there's any truth to this list, and Jay and Kendrick are on the bill, then you're guaranteed find me in the building field.
Here's the rumored bill for now:
Leaked so far: The Cure, Jay-Z, Mumford & Sons, The Flaming Lips, Blur, Skrillex, How To Destroy Angels, Feed Me, Knife Party, Steve Aoki, Eels, Tegan & Sara, Alabama Shakes, My Bloody Valentine, Kendrick Lamar, MGMT, Above and Beyond, Boards Of Canada, Lower Dens, Claude Von Stroke, IO Echo, Purity Ring, CHVRCHES, Alt-J, STRFKR, The Vaccines, Edward Sharpe & The Magnetic Zeroes, Black Rebel Motorcycle Club
Lollapalooza 2013 hit Chicago August 2-4. For more info on the Lolla conspiracy list head over to The Sights And Sounds.