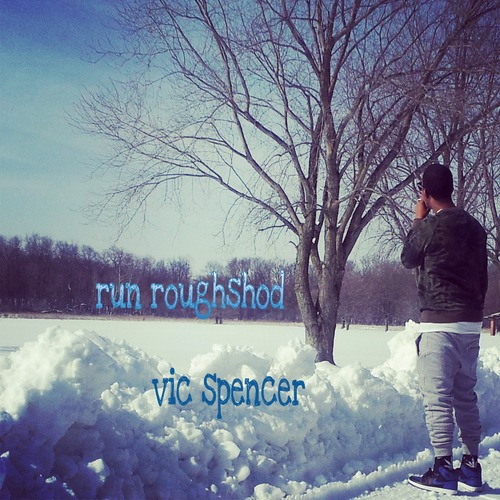 Is this the end? Yes, this is the end. It's so hard to say goodbye, peace out — all that. To close out Vic's Red Button Series, he gives us the final meal, "Run Roughshod." On this one, Vic attacks Barry White's "There It Is (Alex Remix)," to give us something smooth to ease the pain of closure. Don't be too worried, though, because The Rapping Bastard album is due out in November.
Says Vic:
Well folks, you've all made it to the end of the Red Button Series, Vic Spencer appreciates all your listening ears, open minds and yes even those with prying eyes and hate in your systems. This last joint "Run Roughshod" is a perfect way for Vic to make his exit from this project. As Vic regularly treats emcees harshly or domineeringly; overrides; crushes. He has shown this every week for two straight months. Adding more fans to the base while taking any negativity thrown his way and using it as inspiration to continue spitting bahz hot enough to melt wax in an instant.

Vic spazzed out over a slick ass loop of Barry White's "There It Is" (Alex Remix), Vic Greenthumbs even made an appearance to add a little more shit talking to the record..you know, for emphasis. Vic lets it be known that "All a nigga need is respect, thats what Im itchin fo", just before Greenthumbs runs down a brief list of previous Vic Spencer projects just in case anyone forgot, he's been here and he's going to stay here until he gets his respect and long after that. There is no getting around the talent that is Vic Spencer, so like he and Vic Greenthumbs mentioned "The Rapping Bastard" is due out in November, there's no release date yet and that's okay because now you're all waiting on it. Mission accomplished, now on to the next of many things to come for Vic Spencer, he told you "I put out my best work of art not once but in a row". Until then enjoy the Red Button Series Outro – "Run Roughshod".