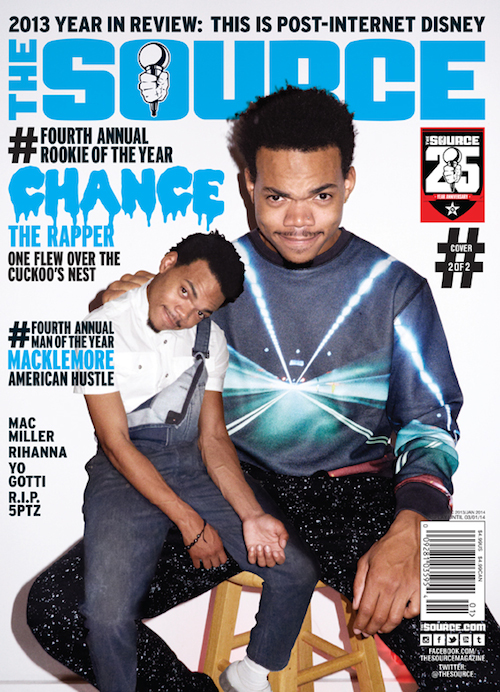 To close out 2013, Chance The Rapper graces The Source's Rookie of the Year cover. Chance was definitely the rookie of the year, so it's only right that he landed The Source's fourth annual ROTY cover. Peep an excerpt from the cover story below:
"With a title like Acid Rap, you'd imagine Chance's album, and career, would be hinged on abundant drug-inspired themes, Juicy J style. "I'm not even on the drugs like that anymore. I smoke cigarettes—I should quit that at some point—and weed, but it's like, you know, in my opinion, the point of life is to have fun, and lots of it. From experience, sometimes, drugs can get in the way of that, so, to answer your question, drugs don't really have that much of a role in my life anymore, but they inspired some of the music, and that'll always be a part of me, in some way." When Chance takes that stage, whether it's at Hammerstein Ballroom or across the Atlantic Ocean, the connection between him and his fans is almost as electric as the bass line in "Smoke Again". At some points, Chance emits such a tense aura the gaze between him and a group of fans as he runs through his fast-paced verse on "Good Ass Intro", Acid Raps' introductory track could be cut with a pair of scissors. Don't mistake his over-the-top personality with him straying away from the pure talents of rap, though. "I'm a rapper, dog", he playfully points out, 'I rap raw as f*ck dude, ask The Source Magazine.'"
The Rookie Of The Year/Man Of The Year issue hits stands January 7th, so be sure to cop a mag or two to read the full cover story. Congrats to Chano.