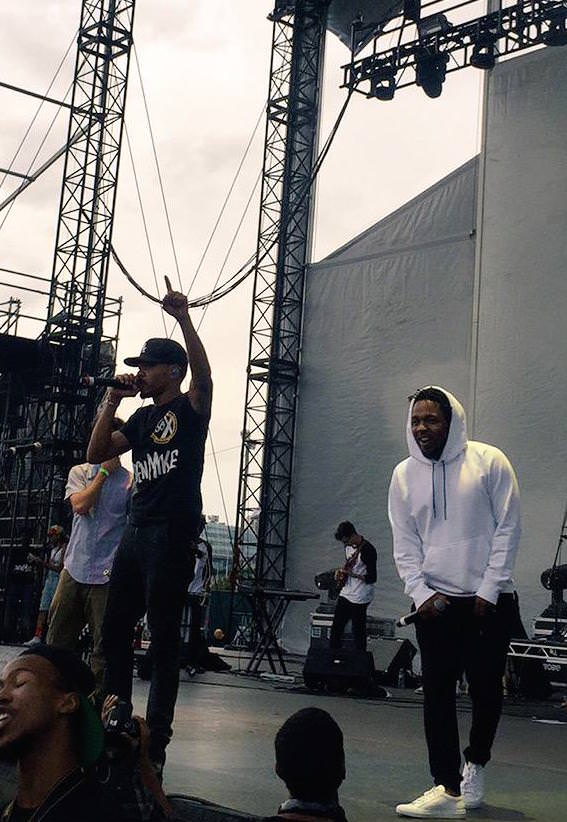 Mayor Rahm Emanuel. Kendrick Lamar. Donnie Trumpet. Those are just a few of the names who came out in support of Chance The Rapper's first annual Teens In The Park (or T.I.P.) Festival this evening, which he hosted alongside the Mayor's office, the Parks Department and the City of Chicago. Chance was in charge of curating the event, and the results are so dope this will have to now be an annual endeavor.
Thousands of teenagers lined the gates and filled FirstMerit Bank Pavilion at Northerly Island for a fun-filled event that boasted music, food, art and dancing for the youth of Illinois. Local organizations such as Chance's #OpenMike, Rhymefest & Kanye West's Donda's House, YCA and The Happiness Club were all on hand representing and showing solidarity. While artists such as DJ Oreo, Chante, DLow and Logan all rounded out the bill.
Chance spoke to the crowd numerous times throughout the evening, and even brought Mayor Rahm Emanuel to the stage who showed support of Chance and the Festival. Donnie Trumpet closed out the show, and during his set brought out Chance to perform select songs off their freshly released Surf project. But the true icing on the cake was when Chance introduced Kendrick Lamar, who did a short set for the surprised crowd. Seriously, no one saw that coming.
As usual, hats off to Chance for pulling off the impossible and using his power and influence for good. We all should take notes. Hit the jump for additional photos and videos of the event, and we hope to see T.I.P. Fest again next year.
Thank you @chancetherapper, we appreciate you and all you do. He just threw a free festival and brought out Kendrick pic.twitter.com/rY0rCqiWaC

— Lyrical Lemonade (@LyricaLemonade) June 25, 2015