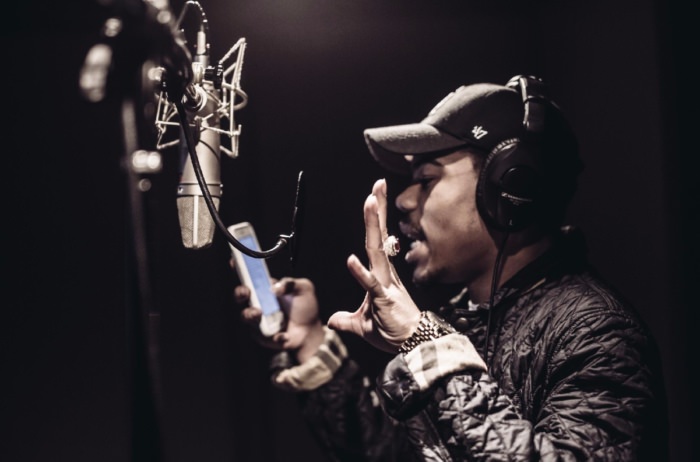 Words by Quentin Yarolem. Photo by Brooklyn Wheeler.
Younger brothers are cursed with constant comparisons to their older brothers, but none have it worse than Taylor Bennett, the younger brother to hip-hop's golden child Chance the Rapper. It would be understandable and almost expected of Taylor to glide through his career, riding Chance's coattails to fame, but that's far from reality. Taylor has put together a string of solid mixtapes, leading up to his debut album, Broad Shoulders, which came out in December of last year. The album had features from artists ranging from King Louie to Donnie Trumpet, and was a definite contributor to the great year hip-hop had in 2015.
"To be constantly compared to him [Chance], no matter if I'm his brother or not, is just crazy over all."
Broad Shoulders thrust Taylor into the spotlight, and made the public aware of his skills. After the success he experienced with the album, XXL honored Taylor by putting him up on the list for the potential 10th spot on their Freshman list. Taylor is joined on this list by fellow Chicago artists like Mick Jenkins, Saba and Montana of 300.
"I think this year it would be crazy if I got nominated, but I'm just starting out. I'm just coming up. This isn't even a fraction of who Taylor Bennett is and what I'm bringing to the world."
Growth is a big concept of Taylor's art, as he talks about how his music has changed from his older songs like "Speed Racer", to his newer music like "Dancing in the Rain." "For me, it wasn't a super heartfelt song, but after a while I realized I could try to merge that with feeling and emotion and substance, and something that actually matters when you say it." Taylor's artistic ability doesn't just stop with music though as he plans to produce a film about the concept of Broad Shoulders.
"I'm working on a short film that's based off of the Broad Shoulders project. I basically wrote a story line and then I had a director come in, my guy Heston (Charres), and we had all sorts of casting for it. We had all kinds of auditions in Columbia and Depaul, two Chicago colleges have been extremely helpful. We've had all types of different people working on set and it's been a really big project."
"The short film encompasses a lot  of the raw emotion that Taylor had experienced while he wrote the project and is a visual representation that takes the audience through the album track by track and is similar to Donald Glover's "Clapping For The Wrong Reasons" or Kanye West's  "Runaway."" says the film's producer and assistant director Danny Farber.
The film will be about the story of Taylor being a young man growing up in the inner city of Chicago, facing adversity and learning about himself and the city.
Taylor Bennett is one of Chicago's most artistic up-and- comers right now. His stand-out debut album launched him into the spotlight, and now he has a chance to be honored as a XXL Freshman in the 2016 class. Whether it's through music or film, Taylor has big things planned for this year, so stay peeped.