Tag: Mic Terror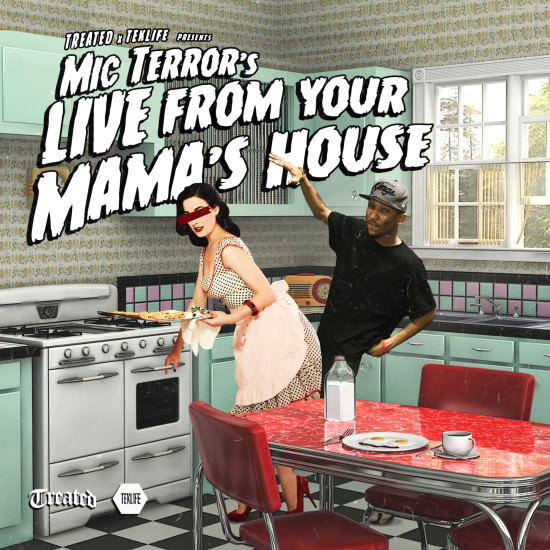 This Thursday, May 14th, Treated Crew and TekLife connect to bring us Mic Terror's Live From Your Mama's House EP. The project is seven tracks deep, and features production from some of TekLife's finest including DJ Phil, DJ Taso, DJ Taye, DJ Heavee, DJ Rashad and DJ Spin. Treated Crew reppers Mano, Drea Smith, Sulaiman and Gzus Piece are also all along for the ride.
I'll let Mano explain further
When u want something done #right u do it yourself. We heard people try 2 make juke/rap music using weak rappers and worst of all making juke beats and not actually using the technicians of the craft (juke producers). Rest in power to my big bro @rashadtlife I knew him and @djspinnteklife since I was 14 going 2 Markham roller rink juke'n girls and foot working. When I got older and I started 2 DJ "hipster" parties around the world people were playing their music and taking their credit 4 introducing a new genre of music. That's why I was glad 2 see Rashad and Spinn take Teklife 2 see the global heights it has so far. One year b4 our brother @rashadtlife passed we did pitchfork fest with him at union park. He played a lot of tracks with soul samples like they use 2 make back in my Sunday night union hall college party days in hs. Me and @micterrorgramwas like man we need 2 rap on this shit and now we have a new future tone 2 hip hop. It's not about making a new wheel it's about learning how u can furtur use it in other ways. May 14th this Friday fall in love with hip hop again like u did the 1st time u heard it.
Hit the jump to check out the official track list.