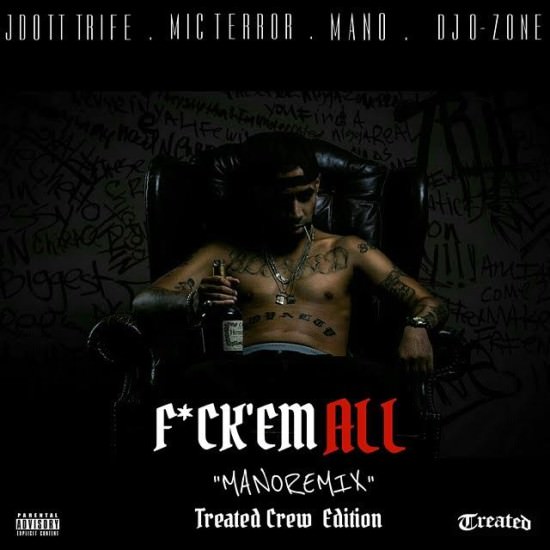 Treated Crew Edition
JDott Trife and DJ O-Zone dropped the very dope "F*ck'em All" a few weeks back. However, today JDott returns with Treated Crew homies Mic Terror and Mano in tow for the official remix. More middle finger music for the world. Share it why don't you.
As the story goes, Mano heard the O.G. version and loved it so much that he decided to come in and rework the record, with an inspired Mic Terror verse. This is the best way to say F'em all, right?
Says Mano:
Their is a lot awesome rappers in Chicago but I'm naturally attracted to the realist people I meet in this hip hop culture I am apart of. My fam @jdott_trife has always been a dope rapper do'n his thing. Recently my g just did 1 of the most incredible things a human can. As far as I'm concern he's super human. God blessed my man and he beat cancer bitch ass!!! He released his 1st single off his album T.R.I.F.E #FUCKEMALL produced by my 20/3 brother @djo_zone and I instantly was inspired and loved the song overall. I really loved the tone that @djo_zone set 2 it but I just wanted 2 b apart of some great art and support my friends with my humble contribution 2 the record. I'm really in to seeing great visions become bigger please yall check out the #og #FUCKEMALL on @fakeshoredrive and b on the look out 4 my #MANOREMIX feat the illustrious @micterrorgram #treatedcrew edition thank u 4 inspiring this @jdott_trife u a star fam!
JDott's TRIFE is due out later this year.
Andrew Barber
0