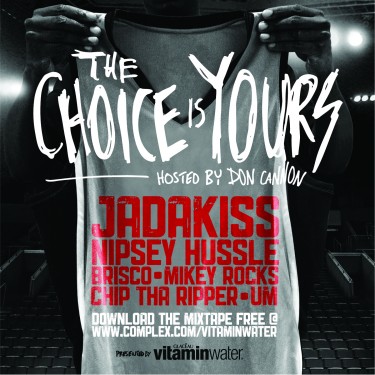 Well, at least he makes his case for it on this mixtape…
A popular question/debate over the past few weeks has been "where is LeBron headed next season". There has been a TON of talk of him joining the Chicago Bulls and making the 'Go his new home, but I'm sure we have a long way to go before that happens.
Last week, when I hit the Blender to listen to the Chip & Chuck project, Chip was heading to NYC the next morning to participate in this Vitamin Water campaign – The Choice Is Yours.  An emcee from every city that (potentially) has the opportunity  to sign Bron Bron was recruited to participate in the project and make the claim for their city being the best fit for King James.  Holding it down for the Windy City is Mikey Rocks of The Cool Kids, who invites Bron to the city where we make Champions.
Jadakiss, Chip Tha Ripper, Nipsey Hussle, Brisco and UM also may their advances towards LeBron.  My question is, who is most deserving?  
Don Cannon hosts the project, which only features three songs, but Mikey is featured on all of them.
Vitamin Water Presents – The Choice Is Yours [Download]