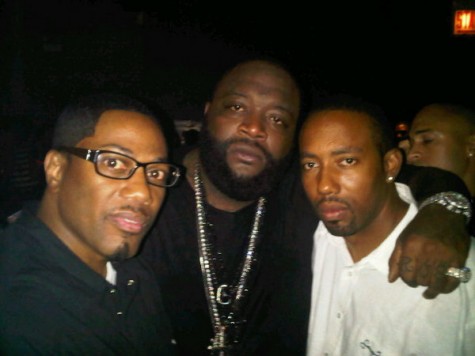 Pictured: E, Rick Ross & Larry Hoover Jr.
Says Ross: Lil larry hoover embraced me tonight!!..I love chicago… dam,this why I make music!!!#memories
After an interesting press junket at Chicago boutique PHLI yesterday, it appears all is fine between Rick Ross and Larry Hoover Jr.  They met for the first time last night during Rick Ross' party at VIBE.  Here, E from Infared Music (the label that houses L.E.P. Bogus Boys), Ross and Larry Hoover Jr. embrace for the camera; just hours after Twitter ran amok with rumors of beef. 
I'm still not sure of Hoover's thoughts on Ross' current smash, "B.M.F.", but we'll be finding out soon.