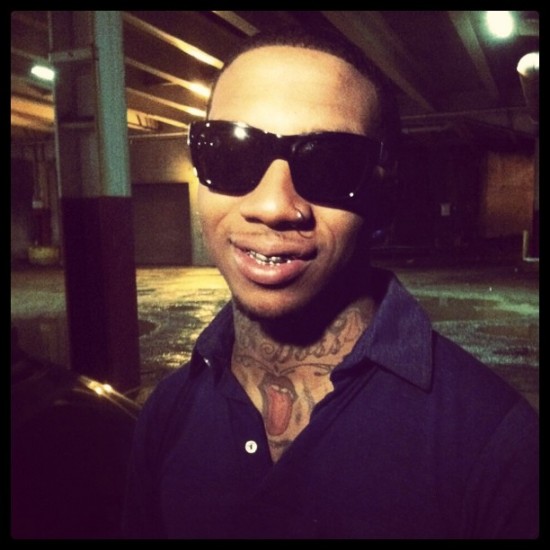 Photo credit: Virgil Solis
Words by Guest Contributor Veronica of the illustrious Cream Team
I didn't expect Lil B to be good live. I really didn't. I envisioned a spectacular mess wherein Lil B would stand on a too big stage communicating only by tweets with the audience as his songs played in the background. Lil B's stream-of-consciousness approach to pretty much everything makes it impossible to tell fact from fiction. And the same goes for his fans. Is their cult-like adoration of their Based prophet sincere, or just internet novelty? Who knows. The most interesting part of last night's show at the House Of Blues was not watching Lil B, but watching Lil B's fans watch Lil B. 
The diversity of the audience was a testament to Lil B's philosophy of positivity. A friend said mid-way through his set, "I've never seen white hipsters and black kids get along this well." To call it getting along is selling the scene short though. It was the kind of socialness between strangers that I've only ever seen happen when a lot of ecstasy was involved. A swag-chanting pep rally for team Based God. An impromptu Cooking Dance party for the Chef.
This was the kind of crowd whose enthusiasm could have carried a show no matter how bad the music was. But they didn't have to. All of Lil B's schizophrenic tendencies seem a lot less crazy live. When he rambled (and he did a lot of this) it wasn't messy and awkward, it was full of life, delivered with a grin and energetic. He boomed the instrumentals of his tracks in the background, a move that would have been amateur by any other rapper, but for Lil B it made perfect sense, a means of bringing his lo-fi aesthetic to the stage. His positivity was infectious, and his rhymes were delivered with smack to the face punches. The live setting completely altered the effect of his tracks. Lil B's sloppy one-take mp3s sounded properly cleaned up and rehearsed.
I don't think Lil B is crazy anymore. He's a very public view of a new generation, raised on the internet, obsessed with digitally documenting their every action. Lil B has the talent and natural charisma to be incredible, but none of the life experiences from which to write serious rhymes, and zero understanding of self-editing. He's too busy updating his twitter to go out and live. Fall down, get hurt, get up again, make better music. It makes me worry for the future.