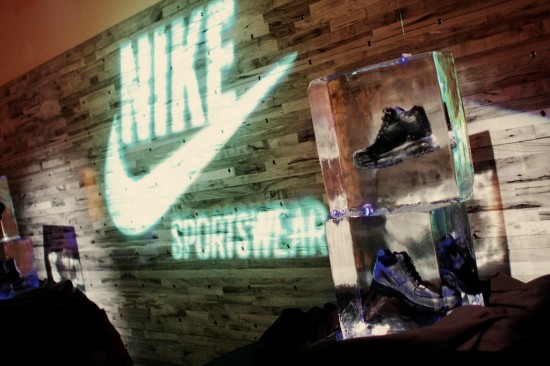 Last weekend, Nike Sportswear had an event at the Nike office on Rush Street to kick off their Always On winter campaign. The event featured personalized vignettes from various movers and shakers in Chicago, and focused on two products: the Detroyer Jackets and the ACG Conquer.
Attendees were treated to an open bar, free food and a performance from a conglomerate of talented Chicago musicians.
DJ Big Once (Red Bull American DJ Champion), DJ 33 1/3, Stephan Ponce (aka Epidemic), Thelonius Martin and Greg Landfair (Drummer Kids These Days) performed as a group, in unison, for the crowd. Rumor has it the crew might even create a group entitled AF1.
Hit the jump for more pics as well as a list of attendees. Shouts to the 8tiv Labs crew for putting on a dope event.
Kid Sister
J2k of Flosstradamus
ADD 2
King Louie
John Monopoly
Rockie Fresh
Hollywood Holt
Pharris Thomas
DJ Moon Dawg
Niena Drake
Rock City
DJ Phantom
Sean Mac
DJ RTC
DJ Nehpets
All Style
Scoop Jackson
Hustle Simmons
Vic from Leaders
Saint Alfred Crew
Aron and the AKIN Crew
Manny Rodriguez
V. Dot and Succezz
Jerry Azumah
DK Drew
Brittany Ireland
Nalky Gilot
Dwamina Drew
Vic & Corey from Leaders
Floyd Davis
Shannon Sangster
Demo Salazar
Femi Montana
J-Niice from B96
Deana McLeary
Chante Rene Linwood
Kevin Coval from Louder than The Bomb
Ed Bourelly and Ron Shaw from Nike