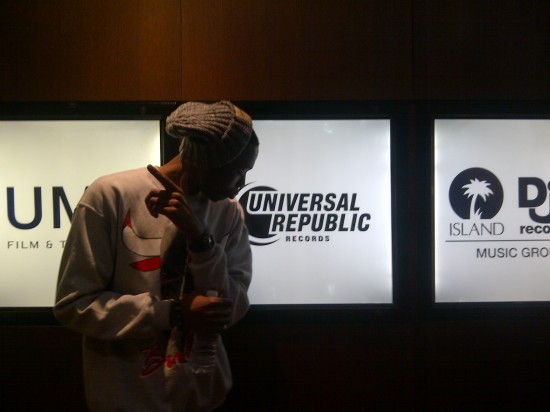 Late last night, news broke from Los Angeles that Chicago emcee YP had inked a deal with Universal Republic. Rumors swirled for weeks that the rapper was close to signing with a label, and had a slew of majors courting him. Yesterday, he made it official by joining the house also occupied by Nick Minaj, Akon and Kid Cudi.
Early this morning (PST, that is), FSD caught up with YP to talk about the deal and how it all came together. Read up and toast to his success.
FSD: First and foremost, congrats are in order to you for inking a deal with Universal Republic. That's a major step and huge look. Tell us how it all went down…
YP: "I came to LA in the beginning of November to see No I.D.–I was only supposed to be out here for three days, and on the first day I linked with No I.D. Nas and Q-Tip happened to be in the studio that night, and Nas told me I was dope. I only met with No I.D. that first day I was out there, and then my phone started ringing from then on. I was on the phone with everyone. Ruben's [Ruben Trejo, YP's manager] phone was blowing up. We were getting calls from area codes and places with numbers we'd never seen. They knew we were in LA, and said they wanted to talk, so we set up meetings to talk with everyone. We were kind of looking at each other like: 'What the fuck do they want to talk to us about?' [Laughs]
"When I hopped off the plane it just felt like somebody said something to someone and the word got out. It was crazy. Sometimes you just have to get out of the city. I've been out here [in LA] since November and have been back and forth ever since. Shout out to Xtreme, Wendy Goldstein [Universal Republic A&R executive] and Niam Ali [A&R at Universal Republic]. Niam was the one at Universal who picked up on my music. He's been pumping me since November, so I'm glad it all worked out.
"It ended up becoming a bidding war, bro. Between Universal and a couple other labels; so I've been traveling like a motherfucker. I met with a ton of people, VPs, and a lot of the top dudes at the various labels — and this was just based off a couple records, you know what I'm sayin? I was always told, don't ever count your chickens before they're hatched, you feel me? So that's why I was never bragging on Twitter or anything. I didn't actually think it was real, I was just out here in the pursuit of it.
"We played the marketing people at Universal records like 'Who I Be,' and 'The Come Up,' and they knew the lyrics and stuff already. It was just crazy."
FSD: So Universal fought to make sure you signed with the label?
YP: "Definitely. Salute to them and salute to their dedication for securing me. I liked Universal so much, because they want to let me do me. They aren't trying to change me at all, and that's one of the reasons I went with them. When I walked in the room, not one time did they ask to hear me make a pop record, or an R&B record. They don't want me to change shit.
"You know, the labels want you to make certain type of records, and want you to do things a certain way, but I learned from watching Bump J, that you have to do it your own way. I made sure everything was done my way. I structured everything my way, with the help of my lawyer. I'm like 'Let me do what I do, make the records I make, and let's go to war together."
FSD: So now that you've got the deal, what's the next move?
YP: "No Doz, baby. The next project is called No Doz. The record is actually done, and Universal played a big part in it. I got some real big records for it. I'm gonna put that out as a mixtape. As you know, I gotta keep my name out there, and keep the music in front of peoples faces. But don't worry, I'm not about to be shelved or be sitting around at the label for 12 months, nah man, ain't none of that."
FSD: So you're a priority on the label?
YP: "Oh yeah. People would think I just got a marketing deal or something. Nah, I got the whole situation. Marketing, A&R, everything. We've already had meetings as to what happens from here, and we're about to start making announcements soon. I've been in 12 hour sessions everyday, so I'm just working and working. Gotta have that work ethic. This didn't happen over night. My first post ever, on any website, anywhere on the web, was through you [Fake Shore Drive] on July 15, 2008. That was my first post. And to come from that shit, to get here? I don't give a fuck. Who knew, Drew? [Laughs]
"I had to make it happen. And as much as they call Chicago 'Haterville' and what not, I still get a lot of love and support from the crib. I wouldn't be where I am right now without the city of Chicago."
FSD: That being said, do you plan on moving away from Chicago? Is LA the new home?
YP: "I'm never leaving Chicago, man. I might be out here in LA, and I got a place to lay my head out here, and a lab situation, but Chicago will always be my official home. I'll be back and forth and in different cities, but Chicago is always home."
FSD: So I'm guessing you went out and celebrated last night?
YP: "Yeah, it was dope. Jeremih showed up to congratulate. As soon as it happened, Freddie Gibbs hit me, and I got him to come out of the lab and celebrate with me. We went up to My Studio in LA and had a ball."
FSD: How is your family reacting to the good news?
YP: "My O.G. [Mom] is ecstatic. She was on the train this morning going to work and random people were coming up to her giving her hugs and congratulating her 'You're YP's Mom?' It's dope, they are all so happy. My cousins are all over Facebook and Twitter talking shit to people, giving it up for me. So it's just been great. I think everyone else is more excited than I am. [Laughs]
FSD: So you physically signed the contract yesterday?
YP: "Yes, I did yesterday. They put me in a room, we talked, they gave me some Dom P, we had chicken satay. It was dope. It all happened yesterday."
FSD: You're now experiencing things that most could only hope or dream for, so congratulations to you.
YP: "Shout out to my city. Shout out to my team, One Off. Shout out to everyone that's been rocking with me. Shout out to the people who aren't rocking with me. Shout out to Ruben and Xtreme. Look for No Doz coming sometime in March. This one small step for hip-hop, one giant step for Chicago hip-hop."