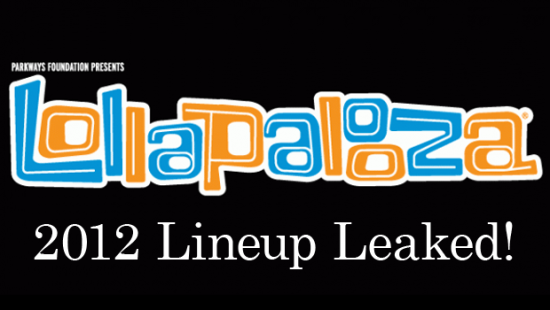 Yeah, Lolla is still over five months away, but a Twitter bandit by the name of LollaLeaks got a drop on the scheduled performers and took to Twitter to announce the lineup.
Per usual, it's light on rap, but Odd Future, Wale, Missy Elliot and Beyonce are all rumored to perform — so there's a least a few recognizable names on the urban side of things. Obviously more acts will be added here and there, so expect more hip-hop names to pop-up closer to August. At least let's hope. But for now, check out the leaked list.
Regardless of how it happened, the 2012 headliners will be Metallica, Red Hot Chili Peppers, The Killers, Beck, Beyonce, and Sonic Youth (which is also rumored to be their last show).
Perry's Tent will again feature Skrillex in a set with Korn, Noisia, Bassnecter, M.I.A., Calvin Harris, Flux Pavilion, Wax, Mord Fustang, and Knife Party.
As for the other stages, you can expect to see The Shins, M83, Joan Jett & The Blackhearts, Gotye, St. Vincent, Surfer Blood, Kimbra, Real Estate, Crosses, Sleigh Bells, Bombay Bicycle Club, Antlers, Passion Pit, Odd Future, Wolf Gang, Will Kill Them All, Wale, At The Drive In, Garbage, Missy Elliot, Gaslight Anthem, Guided By Voices, AWOLNATION.