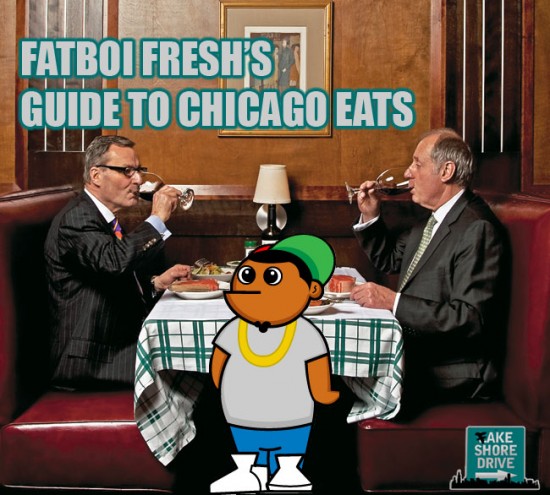 Words by Fatboi Fresh (@BiGWiZizDead)
Fatboi Fresh's Guide To Chicago Eats
Of course you know about Fatboi Fresh the rapper. The artist formerly known as Big Wiz has been shaking up Chicago's indie scene for years with projects like Escape From Fat Camp and the WizardTree EP.
But besides being a superb emcee, Fresh is a bit of a comedian and a full-time food connoisseur — and with a name like Fatboi, the man knows a thing or two about Chicago restaurants. From sushi, to Italian, to fried chicken, Fresh has you covered. This is a palate you can trust.
With Fatboi Fresh's Top 10 Chicago Restaurants, he offers up his favorite menu items from  his picks, and even suggests what beverages you should pair your meal with (see: "Swag 40's"). We promise this list isn't for the faint of heart — or stomach.
Wiz keeps it all the way real here. Hit the jump for Fatboi's picks, which are listed in no particular order.
1.) Taste Buds
4123 West Madison Street Chicago, IL 60624
Most known for their Philly cheese steaks and the "brick burger," Taste Buds located in the K-Town section of Chicago, on the world famous Madison Ave. Although I don't eat at Taste Buds all the time, I have to show this spot some love. I can't even tell you how many times in my life I went to this spot after a long night of smoking, drinking, and fucking off. I have so many fond memories of going to this restaurant throughout my life. When you go in the spot the first thing that you will notice is the pictures of the owner "Brick" with everyone from Diddy to Judge Mathis.
If you're kind of hungry I would do a regular sized chicken Philly or the "best of both worlds" chicken and beef mixed Philly. However if you haven't eaten all day and your trying to max, then the super Philly is a no brainer. The great part of it all is no matter which sandwich you order, fries and a lemonade come standard with your order. So the next time you're around Madison and Pulaski I'd stop through if I were you.
2.) 3D's Jerk Chicken
5317 W. North Ave (between Lockwood Ave & Lorel Ave), Chicago, IL 60639
Man Joe, I have lived all over the city of Chicago and ate and every jerk spot known to man, except for this spot on lake and cicero called JFC ( Jerk Fried Chicken). I mean, come on Joe, jerk fried chicken? Get the fuck outta here. Niggas know they be comin up with some shit.
Anyways, out of all the Jerk spots in the city, I fuck wit 3D's the hardest not only because it's right down the street from my crib, but because they hands down have the closest mambo sauce that you would get to the shit they got out in Jamaica. Truthfully, their sides could use some work, but the sauce and the chicken more than compensates for that wack ass red beans and rice that they slang outta there. I have to admit Joe's out South got 'em faded on the sides, but when it comes down to the chicken and the mambo 3D's is my favorite.
3.) #1 Chop Suey
242 W Chicago Ave (between Lombard Ave & Harvey Ave), Oak Park, IL 60302
Everybody says when you go to the ghetto all you see is churches and liquor stores, but they're pretty much neglecting the fact the Chinese spots are in between all the churches and liquor stores. Unfortunately, I don't fuck with any of those hood Chinese spots; mainly because the bitch at the front counter can barely speak English then has an attitude on top of that big ass language barrier. So instead of going O-Dog on a bitch, I just order take out from this spot in Oak Park called #1 Chop Suey. On some real shit Joe, those son of a  bitches got a bomb on EVERYTHING, so just slide through and order whatever you have a taste for — except for pork dishes, I don't fuck wit swine and you shouldn't either.
4.) El Barco
1035 N Ashland Ave (at Cortez St), Chicago, IL 60622
Ain't nothing like a good old specialty restaurant, and at El Barco they hands down serve the best red snapper in the Midwest. Like for real Joe, they're serving red snapper's bigger than my ego and Rihanna's forehead put together. You can order it fried, broiled, chipotle, or with garlic sauce — either way, you're gonna bite the shit out of your finger at some point during the meal.
Just make sure you don't order the margaritas, cause truthfully speaking, them shits is weak as hell and you won't get a real buzz out of them. I really don't know what else is good there outside of the tilapia ceviche, because I'm coppin' the snapper every time as you should. This is probably my favorite restaurant in Chicago — big ass red snappers and super sexy ass waitresses. If you're a manly man you really can't go wrong with this spot.
5.) Cozy Noodle N Rice
3456 North Sheffield Avenue, Chicago, IL 60657
Now, if you're under the up north act, and not really trying to do the whole Oak Park thing; then I would have to suggest that you slide on the good people over at Cozy Noodles N Rice on Sheffield. Grab some of that chicken with dumplings, or fuck with some red curry. Or if you feeling light, grab the sesame salmon salad — the shit is a bomb Joe, I promise.
6.) Oh Fusion
3911 North Sheridan Road, Chicago, IL
Alright, now my next selection is a sushi restaurant. Yeah niggas, sushi! First of all, let me say this: I may be Fat, however I gained this shit eating quality foods. Where I'm from has absolutely nothing to do with taste, my nigga. With that said, let's expand our horizons to some true playa shit and head over to Oh Fusion for a bite.
Let's keep it real Chicago, bad bitches like sushi! I don't care what race you are, if you like pussy you must learn to love sushi. Because sushi and pussy my brothers, go hand in hand. Let me be your real nigga guide to eating sushi.
First off, when going to a sushi restaurant for the first time don't ever try to go extreme by attempting to order a big ass piece of raw fish. Nine times out of ten you're going to throw up my dude. And not only are you going to dry your date's pussy up, you're gonna dry up every single pussy in the room, fam. And that might get you beat up. Remember this is Chicago, and contrary to popular belief, the white people and the black people here are violent — and what man won't take a swing at you for fucking up his pussy for the night.
Now with that said, if I were you I would start off with a nice tempura. Then I'd order rolls with smoked salmon, crab, or Avocado. Anything else is nasty, just plain fuckin' nasty. Throw in some Saki and some good convo, and most likely you will not only have had a good sushi experience, you just might have some titties for dessert.
7.) Huentitan
4019 West North Avenue, Chicago, IL 60639
Now if there is one thing black people love other the chicken, watermelon, and Jordan's, its tacos. Mainly because you have to be an idiot to fuck it up. Every time I'm on a phone with a girl, and she says that she's gunna make tacos, odds are I'm a slide through. Because you gotta be a mangy, worthless, rat bitch, not to have the basic culinary talent that it takes to put together a decent taco. However, I'm not here to talk about decent tacos, I'm here to put you up on a dope little spot on North and Pulaski called Huentitan. I think that means goat in Spanish, which is why I never order the steak cause it probably just some goat. I'm just mildly serious. Try the steak anyway, I hear that it's good. The tacos and burritos from this spot have saved me from hurling so many times after too much Tequila, and it will save you too. Fuck with 'em.
8.) Sultan's Market
2057 West North Avenue, Chicago, IL 60647
The next restaurant on my list is definitely some other shit. But I'd have to say, ever since my big homie Jello from Chrewd took Chip Tha Ripper and myself through this spot a few years back, I had to make sure I put Sultan's Market in wicker park on my list.
Have you ever walked into your local convenience store and seen the Arab dude behind the counter eating some weird looking shit? Well, I'm almost certain unless they made it at home or they got it from Sultan's or similar spot to it. Sultan's is another one of those places where you should try everything on the menu at least once. They have an assortment of pita based sandwiches, with your choice of chicken, lamb, vegetables and Falafel — which is basically fried chick peas.
The best part about going to this spot is that it's BYOB, so what I usually do is head right across the street to the liquor store and grab one of those $9 Belgium 40's, which I also call "Swag Forties" or "Sworties". After that, all that is left to do is roll up and go to Sub T or Double Door for a more often than not, wack ass performance by local dudes that I'm better than.
9.) Uncle Remus
5611 West Madison Street, Chicago, IL 60644
When I first heard the Wale song with Jeremih when he dissed Harold's, I laughed like a motherfucker. Because in all seriousness, HAROLDS SUCKS! Yeah I said it. Fuck Harold's! They'll give anybody a fuckin' Harold's. It's like 200 of them, all ranging from zero to a strong seven in quality.
Now if you want to get some quality chicken wings topped with the finest mild sauce that money can buy, slide on Central and Madison, to what my fellow westsiders call Capitol Hill, and get you some good ole Uncle Remus. I'm pretty sure when my Southside peeps see this they won't be happy, but to tell the truth I don't give a fuck. Write your own list and see how many people give a shit, with your insignificant ass.
10.) Volare
201 East Grand Avenue, Chicago, IL 60611
Now you can't have a list of dope restaurants without having some good old Italian food on it. My favorite Italian restaurant in the city has to be Volare. What's dope about this spot is they really don't give a shit who you are, everyone has to wait in line to be served — no reservations.
However, through the proper channels, you can order some takeout. When I go to Volare, I'm usually going to fuck with some fettuccini with chicken parmesan, or the veal medallions. On those rare occasions, I might have a little beef dish that I rarely partake in. Under the appetizer act, the calamari is some of the best that I ever had, and if you're really about this swaged out life, their wine selection is perfect for stunting on your date. Set an early dinner date and slide through on those cats before you kick off a great night out on the town. Chuuch on the move.