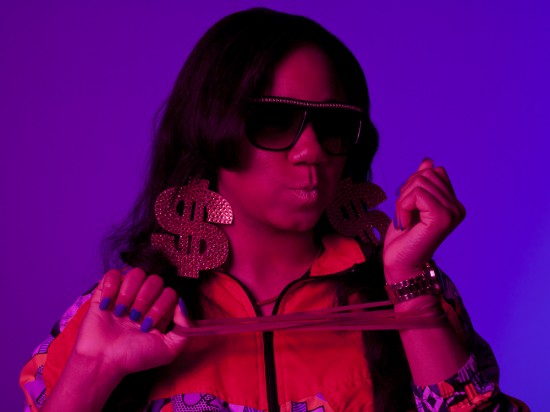 Photos by Marc Moran
Interview by Leland Bonner (@LelandBFresh)
In a rap world that's largely dominated by males, it's been a while since we've seen a strong push from the females. But with more and more ladies stepping up to the mic and giving their male counterparts a run for their money, it's difficult to deny their presence. Especially in Chicago.
The Chi is no stranger to female spitters — most notably Shawnna and Da Brat. Psalm One, Newsense (of PsychoDrama) and Teefa also blazed trails for the ladies, when it was becoming increasingly hard for the females to break through.
They paved the way for newcomers such as  Chella H, Sasha Go Hard, Shady, Chinchilla Meek and a handful of others. Today we catch up with one of the most notable new contributors, Katie Got Bandz.
Katie's buzz has been building around the city with tracks like "I Need A Hitta" and the recent Lawless remix to "Ridin' Around and We Drillin." We caught up with the lady hitta as she discusses everything from breaking down what it means to be a drilla to her upcoming project Bandz and Hittas. Welcome to her world.
FSD: "I Need a Hitta" has become an anthem for 2012. How's that been for you?
Katie: It's been crazy, I only been rapping for like 10 months now so it's kind of a new experience but I'm learning everyday, though. Actually, when I dropped "I Need a Hitta" I ain't plan to keep on going. I was locked up when they dropped the video and when I got out of jail I had seen that I had a following so I ain't have no choice but to keep on going. Of course I don't want to be a one hit wonder so I just stuck with it.
FSD: Being one of the few female rappers out there, what made you want to get into the rap game?
Katie: I always kind of wanted to rap because of my big cousin. He's actually one of my producers or whatever. He never took me seriously until I actually went in the booth. I been wanting to rap since like my pre-teen years, but now I'm 18 and really doing it.
FSD: Are there any rappers or female rappers that you'd say you compare yourself to?
Katie: Nah, not really. I never try to compare myself with other people. I just try to stay in my lane. My sound is just real Chicago, though. I been learning a lot from Chicago rappers and people already in the industry too.
[Click Below For Next Page]