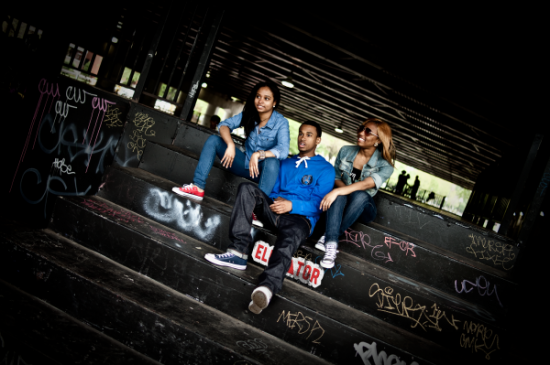 Interview by Bryant Bowens (@arete88)
Chicago's youngest in charge, Spenzo, has been picking up a tremendous amount of press ever since the release of his viral hit "Go In," which reached 60k views on YouTube in less than a month. The buzz around the 16-year-old rhymesayer is growing so rapidly that multiple labels have lined up in his schoolyard to see what all the fuss is about.
Spenzo gives FSD a glimpse into his life, and discusses the star treatment he receives at his high school, his legendary father, and thoughts on drill music. With his stock rising by the YouTube view, the question Ain't U Spenzo will soon be long gone. Read up on the young gun below.
FSD: First and foremost, we want to salute you for taking the time out of your busy schedule to rock with FSD. How have things been since the release of Ain't U Spenzo?
Spenzo: It's been cool– everybody has given me good feedback and constructive criticism.They're excited to hear the next project.
FSD: Have labels been hitting you up as of late?
Spenzo: Yeah, basically. More than one to be exact. I'm just going to wait it out, though. I can see myself getting better. I want to get to the point where they will give me my own label. I'm trying to find people who can help me build up Rich Crew.
FSD: Recently, in an interview with the Red Eye, Chief Keef gave you major praise, even calling you a "Young Lupe." Did that catch you by surprise? 
Spenzo: It caught me off guard. Me knowing Keef, I know he doesn't really talk highly of other people. So when he said that, I respected him more. He didn't have to bring me up. There's people that have a bigger buzz than me that he shouted out, but didn't go in-depth like he did with me. Shout out to him, we definitely have something coming.
FSD: Who were your influences leading up to your own rap career?
Spenzo: Just to keep it simple, when I was younger, my Dad was an influence. He's a well-known DJ in the Low End–DJ Dion. He's part of the legendary Juice Squad DJs. I went everywhere with him coming up when he was doing the DJ thing, so I definitely look up to him. He is sick and in the hospital as we speak.
But other than my Dad, my influences were people who made sticky stuff — music that stuck with me. So that's what made me want to be different. My manager Script is always on me to switch up my flows, and that challenges me to be better. To be honest, some of these local rappers, I mess with them, but they are like what J.Cole said "less rhymes, more hooks" —  that's just what it is.
DGainz told me yesterday he started messing with me because I was different. That's what I'm trying to do, come with some good flows, and some good lyrics. I don't want to have the same content.
[Click Below For Next Page]