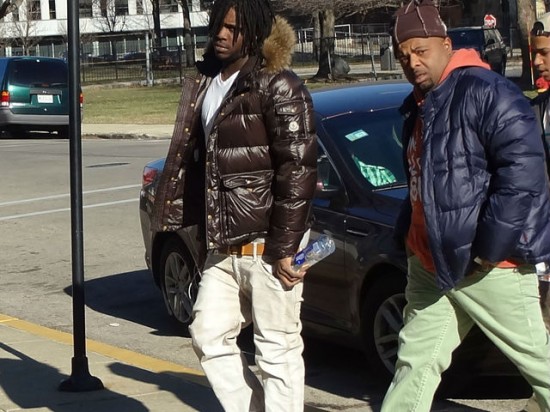 It appears Keef's luck has run out, as today Chief Keef, born Keith Cozart, was sent to jail for violating his probation on a 2011 gun charge. Says DNA:
Chicago rap star Chief Keef was locked up Tuesday afternoon for violating his probation from a 2011 gun charge.

The 17-year-old rapper, whose real name is Keith Cozart, was taken into custody during a hearing in Juvenile Court in Chicago. A hearing on his sentence will be held Thursday.

Cook County Juvenile Court Judge Carl Anthony Walker said Chief Keef exhibited a "clear disregard for the court's authority" in appearing with a gun during an interview with Pitchfork.com.
The video showed the teen rapper shooting a loaded semi-automatic Lugar rifle at the West Side Rifle and Pistol Range in New York City.

Dominador Lacson, a firearms instructor at West Side, testified that the gun was chained to the range's firing booth.

Chief Keef's attorney Dennis Berkson argued that his client was merely making a publicity film and that representatives from Interscope Records were present. "This is no different than if he was in a movie," said Berkson. "It is a movie."

Chief Keef got into trouble in 2011 after pointing a gun at a Chicago police officer. The details of the arrest were exclusively reported Monday by DNAinfo.com Chicago.

Just before noon on Dec. 2, 2011, police responded to a call of shots fired in the 6100 block of South Indiana.
Officers spotted Chief Keef walking out the front door of his grandmother's apartment building in the 6100 block of South Michigan, holding a coat over his hands that were in front of his waistband, according to police reports obtained by DNAinfo.com.

When a police officer tried to stop and question Chief Keef, the rapper dropped the coat, flashed a blue-steel handgun and sprinted through the vacant lot next door, according to police reports.

When officers gave chase, Chief Keef — who was 16 at the time — twice turned and pointed the pistol at the officers, according to the police report. The officers "discharged their weapons" but missed, according to the police account.

Chief Keef made it about a half-block before officers nabbed him in the alley of the 6100 block of South Indiana, according to the report.

One officer suffered bruises in the struggle to detain the rapper. Police recovered the pistol, which was loaded, according to reports.

Chief Keef was charged with four felonies — three counts of aggravated assault with a firearm on a police officer and aggravated unlawful use of a weapon. He also was hit with a misdemeanor charge of resisting arrest. When he was collared, police noted that 16-year old had two tattoos — "Fast" on his right hand and "Life" on his left hand.

Chief Keef was held in the Cook County Juvenile Detention Center until a judge sentenced him to home confinement at his grandmother's house.

During that time on house arrest, Chief Keef made the now-famous video "I Don't Like," which got more than 20 million views on YouTube and helped him land a deal with Interscope Records, the label of rappers Dr. Dre, Eminem and 50 Cent.

It wasn't Chief Keef's first felony charge.

The high school dropout was arrested on Jan. 27, 2011, and charged with manufacture and delivery of heroin near a school, public housing building or park, a Class X felony, according to police records. Juvenile offenders are determined to be "delinquent" rather than guilty of charges. Chief Keef served time on home confinement on the drug charge, according to reports.