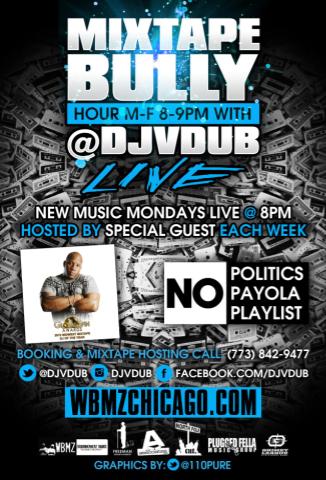 Back in October of 2010, Chicago lost a young man who had a promising rap career on the horizon. He had just linked up with Beanie Sigel to head up the State Property Chicago faction, but unfortunate circumstances got in the way and King never saw his dream realized.
It was reported when he passed, that he had a treasure trove of unreleased records in the can that would eventually see the light of day. But as of today, not much has materialized. However, today DJ V-Dub emerges with an unreleased exclusive to kick off his return to Music Mondays on WBMZ. Starting tonight, V-Dub will be live every Monday night from 8-9pm, playing the hottest in Chicago hip-hop alongside a special co-host. No politics. No payola. No playlist.
To get your music played on V's show submit your Mp3s to [email protected] Be sure to hit WBMZChicago.com for all of your local hip-hop needs, and be there at 8 to hear the latest from V-Dub. But first check out the Savior and Sigel in one of their last known collaborations. This record will also be played live on-air this evening.