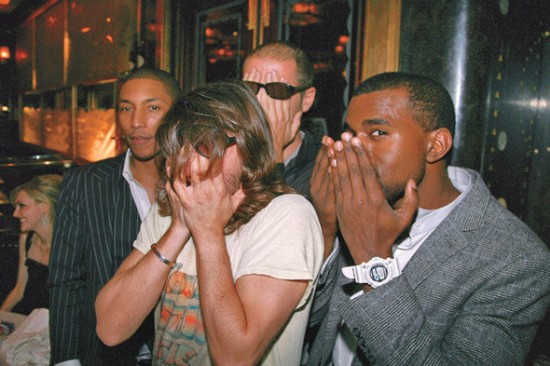 Mr. West and Electronic duo Daft Punk have connected for new music and we may just get to hear it soon. During their recent interview with Rolling Stone, Daft Punk revealed that they have collaborated with Kanye for his next LP.
While recording, Daft Punk found time in their schedules to jam with Kanye West for his next album.

At their Paris studio, they laid down a combination of live and programmed drums while Kanye worked out rough vocals on the fly. "It was very raw: he was rapping – kind of screaming primally, actually," Thomas says. "Kanye doesn't give a fuck," Guy-Manuel adds. "He's a good friend." Director (and longtime Daft Punk compatriot) Michel Gondry says that Kanye recently played him "two songs" that sprang from the session. "One of them, I told him it sounded solid and powerful – I envisioned a cube when I heard it," Gondry says. "He told me, Chris Cunningham's already directing the video!"
Two records from 'Ye and Daft Punk? A possible video for one the records? Color us excited. Last night, A-Trak took to his Twitter to confirm that the records are just as dope as people imagine them to be. Kanye's sixth studio album is reportedly due out later this year. Hopefully, we'll hear these records or more about them soon.