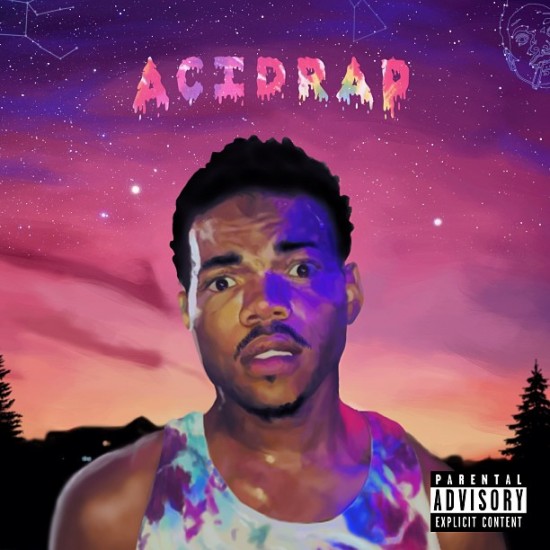 Artwork by Brandon Breaux
Acid Rap is finally upon us. It's been a little over a year since Chance released his debut project, 10 Day, which officially put the young artist on the map. And over the course of the past year, Chance has effectively set the world on fire. Don't believe me? Take a look around as you walk down this street today — his likeness can be found on the Red Eye, the Reader and probably another few publications in and around newsstands. It's Chance-mania. From labels, to peers, to fans, everyone has been patiently waiting on his sophomore set.
At a private press listening session for the project last weekend, I was able to preview the album, and despite a few cocktails down the hatch, and a talkative audience,  it more than lived up to expectations upon first listen. However, as with any project, it takes time to fully digest it, and I'm never quick to call something a classic. But you could hear the growth, you could feel the star coming to life. 10 Day was an amazing precursor, but Acid Rap is older, more polished, and comes from the experience of a young man becoming an adult, who has started to see more of the world. The beats are bigger and so are the features, but Chance is the true star here.
So today, on April 30th, it's finally here — so you can judge for yourself. Drop a hit of acid below.
Chance The Rapper – Acid Rap | Alternate link [Stream]
01. Good Ass Intro (Feat. BJ The Chicago Kid, Lili K., Kiara Lanier, Peter Cottontale, Will for the O'mys, & JP Floydd for Kids These Days) [Prod. By Peter Cottontale, Cam For J.U.S.T.I.C.E. League & Stefan Ponce] (3:59)
02. Pusha Man (Feat. Nate Fox & Lili K.) [Prod. By Ceej] (7:24)
03. Cocoa Butter Kisses (Feat. Vic Mensa & Twista) [Prod. By Cam For J.U.S.T.I.C.E. League] (5:07)
04. Juice [Prod. By Nate Fox] (3:35)
05. Lost (Feat. Noname Gypsy) [Prod. By Nate Fox] (3:05)
06. Everybody's Something (Feat. Saba & BJ The Chicago Kid) [Prod. By DJ Ozone] (4:37)
07. Interlude (That's Love) [Prod. By Ludwig Gorransen] (2:30)
08. Favorite Song (Feat. Childish Gambino) [Prod. By Nate Fox] (3:05)
09. NaNa (Feat. Action Bronson) [Prod. By Brandun Deshay] (3:21)
10. Smoke Again (Feat. Ab-Soul) [Prod. By Blended Babies] (4:33)
11. Acid Rain [Prod. By Jake One] (3:36)
12. Chain Smoker [Prod. By Nate Fox] (3:31)
13. Everything's Good (Good Ass Outro) [Prod. By Cam For J.U.S.T.I.C.E. League] (5:34)