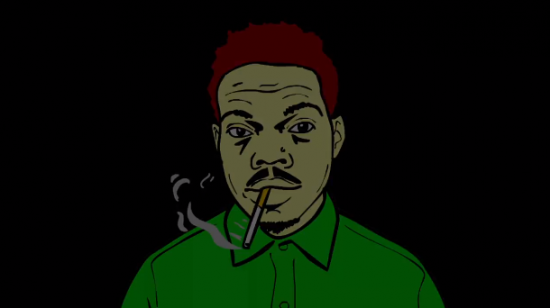 Chance recently announced he was headed on tour with Mac Miller this summer, but what you didn't know is that he's linking with another Mack to hit Europe. Yeah, he's taking Acid Rap overseas as support for Macklemore and Ryan Lewis' journey across the pond. Chance and Macklemore took to Twitter to announce this just moments ago.
We're very happy to announce that @chancetherapper will be joining us on our Fall European tour!! macklemore.com/shows

— Macklemore (@macklemore) May 23, 2013
Hit the jump for dates, locations and ticket info.
TICKET INFO
SOLD OUT Quincy, WA 05/24/2013 Sasquatch Festival w/ Mumford & Sons http://www.sasquatchfestival.com
ON SALE Derry, IE 05/26/2013 Radio 1 Big Weekend Festival Lineup http://bbc.in/13ZH0ST
SOLD OUT London, UK 05/27/2013 02 Shepherds Bush Empire Headline show http://bit.ly/147BTU7
ON SALE Philadelphia, PA 06/01/2013 Roots Picnic w/ The Roots http://bit.ly/WSbUHj
ON SALE Houston, TX 06/02/2013 Free Press Summer Fest w/ The Postal Service http://bit.ly/Kxn2ne
ON SALE Las Vegas, NV 06/05/2013 Surrender Nightclub 3 Year Anniv Party www.surrendernightclub.com
ON SALE Englewood, CO 06/07/2013 107.5 Summer Jam XVI w/ 2 Chainz, J Cole http://bit.ly/17JDGM9
ON SALE Bridgeview, IL 06/15/2013 B96 Summer Bash at Toyota Park http://bit.ly/17JAeBe
ON SALE Manchester, TN 06/16/2013 Bonnaroo Festival Festival Lineup http://www.bonnaroo.com
ON SALE Tilberg, NL 06/21/2013 Best Kept Secret Festival Festival Lineup http://bit.ly/117CymA
ON SALE Eichenring, DE 06/22/2013 Hurricane Festival Festival Lineup http://bit.ly/Q3M4Bl
ON SALE Nuehausen, DE 06/23/2013 Southside Festival Festival Lineup http://bit.ly/AqmofX
ON SALE Borlange, Sweden 06/27/2013 Peace & Love Festival Festival Lineup http://bit.ly/11oODoq
SOLD OUT St Gallen, CH 06/28/2013 Open Air St Gallen Festival Festival Lineup http://www.openairsg.ch
ON SALE Brussels, Belgium 06/29/2013 Festival Couleur Cafe Festival Lineup http://bit.ly/XsTDSk
ON SALE Luxembourg 06/30/2013 Rock-a-Field Festival Festival Lineup http://www.atelier.lu
ON SALE Arendal, Norway 07/02/2013 Hove Festival Festival Lineup http://bit.ly/YIGKD3
ON SALE Bayonne, FR 07/04/2013 Festival des Arenes Festival Lineup http://bit.ly/163c59Q
ON SALE Nort-sur-Erdre, FR 07/05/2013 Nuit de l'Erdre Festival Lineup http://bit.ly/12Qtp0t
ON SALE Mariaville, NY 07/11/2013 Camp Bisco Festival Festival Lineup http://campbisco.net
SOLD OUT London, UK 07/13/2013 Wireless Festival w/ Jay-Z http://www.wirelessfestival.co.uk
ON SALE Leipzig, DE 07/14/2013 Splash Festival Festival Lineup http://bit.ly/bscuXM
ON SALE Toronto, ON 08/02/2013 Echo Beach Headline Show http://bit.ly/13nglzW
ON SALE Montreal, QC 08/03/2013 Osheaga Festival w/ Mumford and Sons http://www.osheaga.com
ON SALE Squamish, BC 08/09/2013 Squamish Valley Festival w/ Band of Horses http://squamishfestival.com
ON SALE Ft. Collins, CO 08/30/2013 Colorado State Univ at CSU Intramural Fields www.csutix.com
SOLD OUT St. Paul, MN 08/31/2013 Minnesota State Fair Grandstand Concert Series http://www.mnstatefair.org
ON SALE Philadelphia, PA 09/01/2013 Made In America w/ Beyonce http://www.madeinamericafest.com
ON SALE London, UK 09/09/2013 Brixton Academy Fall World Tour http://bit.ly/124DCGc
ON SALE London, UK 09/10/2013 Brixton Academy Fall World Tour http://bit.ly/13ZClAD
ON SALE Birmingham, UK 09/11/2013 Academy 1 Fall World Tour http://bit.ly/124DCGc
ON SALE Manchester, UK 09/12/2013 Apollo Fall World Tour http://bit.ly/124DCGc
SOLD OUT Glasgow, SF 09/13/2013 Academy 1 Fall World Tour http://bit.ly/rUn9j
ON SALE Dublin, IE 09/14/2013 The 02 Fall World Tour http://bit.ly/18eh5Yh
SOLD OUT Dublin, IE 09/15/2013 The 02 Fall World Tour http://bit.ly/14I41xZ
SOLD OUT Amsterdam, NL 09/18/2013 Heinkekin Music Hall Fall World Tour http://bit.ly/ZRS3td
ON SALE Zurich, CH 09/20/2013 Hallenstadion Fall World Tour http://bit.ly/11fKEeV
SOLD OUT Paris, FR 09/21/2013 Zenith Fall World Tour http://bit.ly/ZE8xsN
SOLD OUT Paris, FR 09/22/2013 Zenith Fall World Tour http://bit.ly/ZE8xsN
ON SALE Warsaw, PL 09/24/2013 Torwar Fall World Tour www.go-ahead.pl/pl
ON SALE Berlin, DE 09/25/2013 Columbiahalle Fall World Tour http://bit.ly/ZhITLS
ON SALE Stuttgart, DE 09/26/2013 Schleyerhalle Fall World Tour http://bit.ly/ZhITLS
SOLD OUT Dortmund, DE 09/28/2013 Westfalenhalle Fall World Tour http://bit.ly/ZhITLS
SOLD OUT Frankfurt, DE 09/29/2013 Jahrhunderthalle Fall World Tour http://bit.ly/ZhITLS
ON SALE Hamburg, DE 09/30/2013 Sporthalle Fall World Tour http://bit.ly/ZhITLS
ON SALE Copenhagen, DK 10/01/2013 Tap 1 Fall World Tour http://bit.ly/15FpgQI
ON SALE Oslo, NO 10/02/2013 Sentrum Scene Fall World Tour http://bit.ly/15Fpjfv
ON SALE Stockholm, SE 10/04/2013 Annexet Fall World Tour http://bit.ly/10y1a9z
ON SALE Amsterdam, NL 10/08/2013 Heinekin Music Hall Fall World Tour http://bit.ly/15ly671
ON SALE Milan, IT 10/09/2013 Alcatraz Fall World Tour www.ticketone.it
ON SALE New Orleans, LA 11/01/2013 Voodoo Experience w/ Pearl Jam http://thevoodooexperience.com