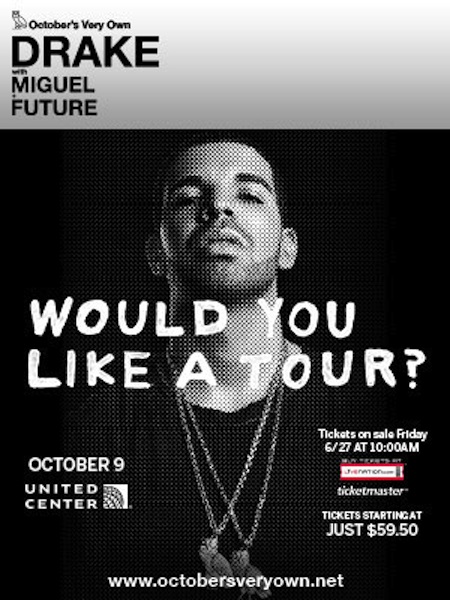 On October 9, 2013, Drizzy and the OVO family hit Chicago's United Center for the Would You Like A Tour? Miguel and Future will also be accompanying Drake on the tour, tickets for which go on sale on Saturday, June 21st. But as you know, FSD always holds its readers down with free tickets, so today we're giving out two sets of passes to two lucky fans. Free Drake tickets before they even go on sale? Don't ever say FSD did nothing for you.
Who: Drake featuring Miguel & Future

Where: United Center

When: Wednesday, October 9th, 7pm
Hit the jump for details on how to win the tickets. Good luck and see you at the show.
To win, you must be the first person to correctly answer the trivia question below, and Tweet me (you must follow me so I can DM the winner) with the hashtag #FSDGiveaway. @fakeshoredrive must be included in your tweet to win.
Name the Chicago rapper that Drake recently quoted on Twitter.