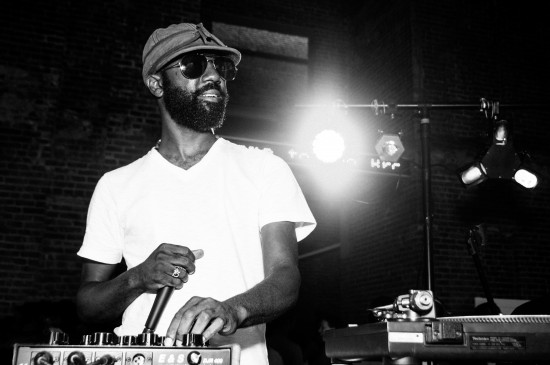 The Twilite Tone is one of the most revered personalities in the history of Chicago Hip-Hop. This DJ/producer/renaissance man's fingerprints are all over the current state of style and music in the Go Ill, and his influence on fashion and Hip-Hop has spanned a few decades.
From his early days as Common's official DJ and producer, to his current production run with Kanye West and the G.O.O.D. Music Family; Tone is truly a wise man who has experienced a lot in the music business and continues to pay it forward. We caught up with Tone to talk about his recent work with John Legend, Kanye West, Pusha T and Big Sean, his history in the music biz, Twilite Tone tapes, Dem Dare and much more.
Hit the jump to enter the Tone Zone.
FSD: For everyone out there living under a rock, who exactly is The Twilite Tone?
The Twilite Tone: The Twilite Tone: Genre-less, timeless, epiphany causing, music producer, singer-songwriter, artist, master of ceremonies, DJ, cultural leader and renaissance man of lifestyle.
FSD: How did you get your name?
The Twilite Tone: I got my name originally by my affinity of the hit TV series The Twilight Zone. The Twilight Zone is that exact time, space and dimension between what is reality or concrete and is dream — or abstract like when you are falling asleep while watching television and your dreams intersect with what you are watching. The Twilite Tone is the feeling, sound, pitch of The Twilite Xone [The Twilight Zone].
FSD: You slowed up on producing for artists for many years. What was your reasoning behind that?
The Twilite Tone:  Great observation. I appeared to slow up on production from 1995 until the new millennium because I put my focus on DJing and self development. So publicly people only saw me as a DJ, meanwhile I was at home evolving as a producer, singer-songwriter, and artist as many who were close to me were well aware of.
FSD: Now you're back in the production game pretty heavy, having recently contributed to projects by Kanye West, Big Sean and Pusha T. How did this happen?
The Twilite Tone: You are absolutely correct. I am back in the production game pretty heavy, playing really big. This happened because I chose to change my view point of who I am and what I do in music. I now view production and what I do in music overall as a service I'm providing to enrich people's lives, which is why I have honed my skills in my profession, as opposed to being the best over anyone else in the production or music game. I choose to be the best me I can be, to provide quality service. In addition, really be present to who the people are I'm providing service to and their needs as patrons.
FSD: How did you link up with the G.O.O.D. Music family? Rumor has it you were one of Kanye's first influences. Did you teach him how to produce?
The Twilite Tone: Basically, it started with engaging in conversation with Kanye and actually listening to what his musical needs were and are, as opposed to what I could get out of the situation. That's how I truly linked up with Kanye and G.O.O.D. Music.
Yes, it is well noted and documented that Kanye has gone on record to say he was moved and inspired by myself and my Darian family, which was centered around my friends and my sense of style or fashion, if you will. In terms of music, I have known Kanye since he was younger and we always bigged each other up. I remember quite vividly him complimenting "Reminding Me (Of Sef)" from Common's One Day It'll All Make Sense LP, saying it was the best beat on the album. I always knew from the first time I heard Kanye that he had something special. However, the most we did with each other up until recent years is swap drum sounds.
FSD: What else are you working on? I hear you've been working pretty closely with John Legend as of late.
The Twilite Tone: Actually, I'm up to a lot thanks to my publishing company Downtown, my manager Mr. Dan Mullins, and my efforts and energy towards creating product and new options for pop culture at large. I truly respect and admire John Legend and recently had the pleasure working on his first single "Who Do We Think We Are," and " What If I Told You," which is used as an interlude on the album. However, I want revisit this song as I have a crazy more complete version that I'm excited about. Also, I had the tremendous opportunity to curate the music and DJ his release party in NYC. Honestly, it would be awesome to be John Legend's director as I see tremendous potential and possibility from him as a artist, entertainer, brand, and person overall.
FSD: You have a storied history with the legendary Chicago crew Dem Dare. Could you tell us a little bit about those days?
The Twilite Tone: My story and history with the legendary crew, Dem Dare, who I later dubbed The Darians, is that we were group of friends dedicated to and for excellence through our talents we honed at home, in our neighborhoods. We met one another battling one another in the various areas of music, art, dance, and fashion. I officially named us Dem Dare when I gained access to the now legendary club, The Alcatraz, and requested that ReggieKnow [regnoc back then] create the advertisement/plugger/flyer for the events.
[Click Below For Next Page]