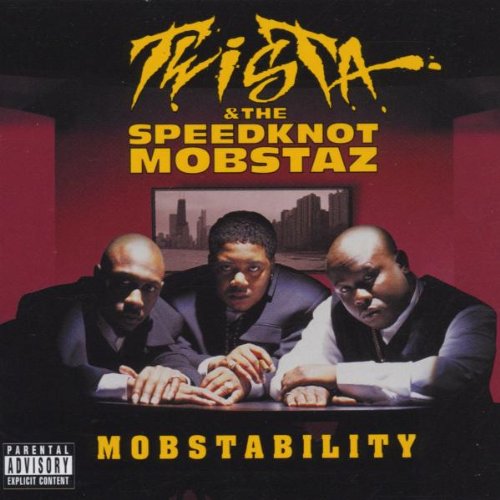 It's been exactly 15 years since Twista and his cronies, the Speedknot Mobstaz, dropped their undisputed classic, Mobstability (well, 15 years ago yesterday to be exact. October 6, 1998.) Twista's Adrenaline Rush was a regional smash a year prior in 1997, and T upped the ante in '98 by bringing two of his homies along to help with the heavy lifting, Liffy Stokes and Mayz. On some days, I might declare that Mobstability is a superior album to Adrenaline Rush (but I emphasize on some days). Why? Well, Traxster produced both projects in full, and on Mobstability Traxster took a step in a more commercial direction. His production sounded fuller, more radio ready.
Adrenaline Rush had a regional sound that was beginning to appeal globally  — and that was the charm of it. It was an evolution of Do or Die's Picture This. So I see Mobstability as an extension of what Twist and Trax were doing on Adrenaline Rush with bigger aspirations. It was a little more polished, a little shinier. Twista's rhymes were even more precise and focused. Instead of having to handle every song for self, he could craft high impact verses where he carefully chose every word he fired off. They were full of energy and vigor.
Twista's confidence was evident, as he was comfortable enough to try and dismantle Bone Thugs-N-Harmony, who were beginning to lose steam, on "Crook County (Bone Crusher)." Do or Die, Crucial Conflict and Synpaz had all taken shots at Bone, but Twista's verse was the most vicious in this battle, where he revealed stories of confrontation and called out members by name.
One thing about the Speedknot Mobstaz was their noticeable chemistry together. Mayz and Liffy were a nice contrast to Twista's rapid fire flow, and gave the project more of a "playalistic" feel. I've always maintained that Liffy had one of the best and most distinct voices in rap. His strong Westside accent and flow were a testament to the side of the city he repped steadfastly. And they were no slouches on the mic either. They might not have had the razzle and dazzle of Twista's speed, but they did have a finesse of their own.
[Click Below For Next Page]