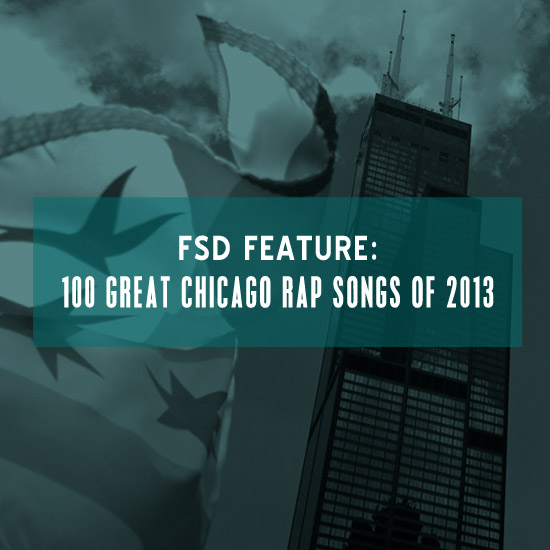 Words by Andrew Barber (@fakeshoredrive), Ty Howard (@someguynamedty), Elyssa Czynski (@czynskers), Alex Gleckman (@andfeedingyou) & Holiday Kirk (@HolidayKirk)
With all of the press and media attention Chicago Hip-Hop received in 2012, many thought the scene would fall off or dry up completely in 2013. Too much hype, not enough output, some claimed. The good news, however, is that those claims were unfounded. Chi rap came back stronger and introduced a whole new crop of talented artists in 2013. 2013 saw many artists, whether they were singed to major labels or not, taking their careers into their own hands and rolling out their own campaigns — the DIY model. Just because majors weren't churning out albums by Chicago artists, didn't mean the scene didn't continue to flourish. We'd argue that 2013 was even bigger than 2012 in a lot of respects.
This is our second annual 100 Great Rap Songs list, which kicked off last year with 100 Great Chicago Rap Songs Of 2012 . Yes, we know the clicking is a bit daunting, but we promise it's worth your time. There are joints here that you might've missed, slept-on or forgotten about. Now, we aren't saying these are the BEST songs of the year, but these are the joints we listened to the most.
Read, share, discuss.
*No more than two songs per lead artist
*Songs are listed in alphabetical order
[Click Below For Next Page]