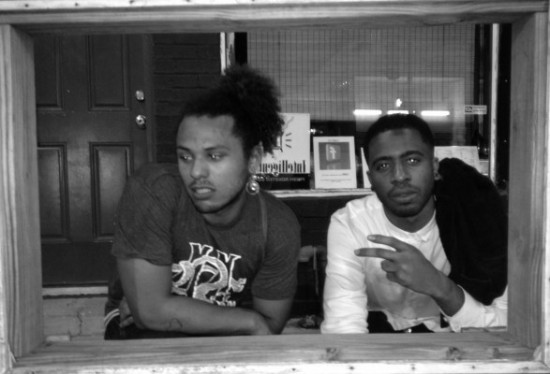 Words by Elyssa Czynski (@czynskers)
A "left hook" from SaveMoney rappers, Kami de Chukwu and Joey Purp, leaves us intrigued. Their collaborative project, Leather Corduroys, is highly anticipated, but they don't want to tell anyone about it.
Chukwu and Purp used Leather Cords to do whatever they wanted, riding on their talents to create something unpredictable. "The whole project, figuratively, is us sitting next to somebody and elbowing them a little bit," explained Purp.
When asked if he could describe what the Leather Corduroys sounds like, Joey Purp responded with a smile, "No, I'm sorry."
Trust me, we are all confused and curious.
What we do know is this – the name Leather Corduroys itself is a play on words. There are three "principles," as Chukwu and Purp call it, that go into Leather Cords:
Leather corduroys cannot exist, that fabric is impossible. Imagine if they could though and how dope it would be.
If "leather cords" means pants, they would never be shorts.
If "leather cords" means an auxiliary cord, they would never short circuit.
Purp explained that he and Chukwu have, "a knack for practical jokes, and Leather Cords is a conceptual practical joke." A joke that appears to be played upon us, the listeners. It is difficult to say whether the project is funny, some sort of parody or satire, but as Chukwu explained, "The thing we went really hard on was a comment on all the music that we've heard thus far, trying to create a project where we could touch bases with a lot of different types of music."
It isn't all hip hop either, but other genres as well. "[Leather Cords] is not going to be any particular sound, it's going to be all over the board, but it's not going to be any of this boom-bap hip hop shit that we've been dropping up to date," explained Purp.
That "boom-bap hip hop shit" has been dope though. Purp's feature on Tokyo Shawn's "World Turning" gives new meaning to "purple haze" ("Hair tied, shirt wide I think I'm Jimi Hendrix"), and Chukwu's "Droptop Vision" moves through molasses with the top down.
"Of all the songs [people] have heard me and Joey on, the rapping has always been super up to par. People hold us to be really hip hop. Leather Cords isn't that. Just expect us doing some shit that you've never heard. Sounds cliché, but really though, [we're] out of our comfort zones," said Chukwu.
So how was this project made? "Well you have to start with a really hard twill…and like, a sewing machine," jokes Chukwu. "We made that shit super organically. [We] hear music, we think of something, and then one of us thinks of some golden shit, and then we tarnish that shit with our voice," explained Purp.
In order to create a project like this, Purp and Chukwu need to be in tune with one another. The two have been friends since high school geometry at Whitney Young. Joey Purp sat behind Kami de Chukwu and needed to catch his attention. A "psstk" was what ultimately did. After Chukwu was called "Psstk" for a week, they started to become friends. You would think that there is a lifelong friendship here, especially when you see how they interact.
Purp and Chukwu were similarly dressed when I met with both of them. Chukwu was wearing a shirt that gave the illusion of black stripes underneath a white shirt. Purp was wearing a white tshirt over a shirt with black stripes on it, giving the same illusion. Coincidences like that happen a lot. They joked that was how Leather Cords was made.
[Click Below For Next Page]