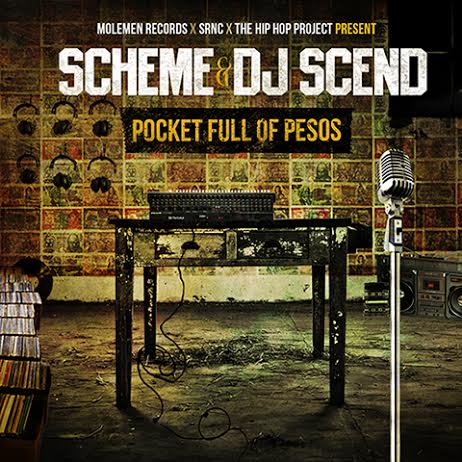 MC Scheme. DJ Scend. Spanish. English. There's a lot of dualities in this project, and Scheme and Scend take it to the next level with Pocket Full of Pesos, their first-ever collabo two language mixtape.  These two are known to take it back to the essence of hip-hop, so if you're a fan of their previous work, you will enjoy how they push the envelope on this one.
Scheme & DJ Scend team up to bring to you Pocket Full of Pesos. A mixtape which focuses on the MC and the DJ; beats and rhymes. The purpose was to bring back the essence of the mixtape. An MC showcasing his skills, and his DJ blending/mixing the entire thing together. They brought it back to where a mixtape was made to demonstrate skills without any rules. Pocket Full of Pesos is 1 hour of music; non-stop and without filler. The mixtape contains features by Molemen Records own Astonish and Jamal Science, as well as Clew Rock and Oscar Castillo. This is Scheme's first offering in both English and Spanish. This is the introduction to Scheme bringing every facet of who he is to the table. He has a Pocket Full of Pesos, he's just trying to make these Pesos Turn to Dollars.
Download and stream below the jump.