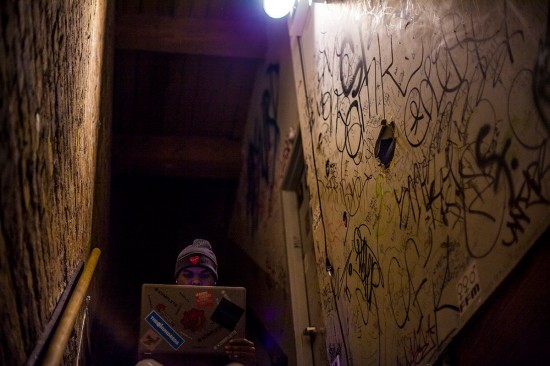 Words by Elyssa Czynski (@czynskers)
Chief Keef and Young Chop could be called the catalysts for Chicago's drill scene making it into the mainstream, but DJ L is up next. He is the mastermind behind beats for Lil Herb's track "Cashin," a handful of joints on Lil Bibby's Free Crack mixtape, and Tink's collaboration with both Bibby and Herb, "Kilo." But the the 21 year-old producer has another agenda entirely.
As Herb and Bibby made waves this past year, DJ L's beats carried their momentum. DJ L has been producing for years, and has worked with a number of artists within Chicago. He has a self-proclaimed versatility unlike other producers. "I feel like my sound is highly unique. My styling as a producer is very rare," he said. When working with Herb and Bibby, he was branding his sound, and carving a place for himself within the drill scene. "Oh my God who is this? An L beat," in a Valley Girl voice at the beginning of a song is one of DJ L's various seals. In addition to working with different artists, you can buy his beats at beatmart.net/DJLbeats.
DJ L played drums as a kid, knows how to read music, and grew up listening to a lot of R&B and Soul. He got into producing in high school when he got his first laptop. As a kid he would go to the skating rink and see the DJs there, inspiring his name. "When I call myself 'DJ L' I'm not doing it just to call myself that, I use certain techniques that a DJ may use to mix or to chop samples or chop loops up," he explained.
When going to produce a beat, DJ L starts with the melody, adding in any samples, building drums around it all, and arranging the track to perfection. When making a beat to be rapped on he described it as tending to be, "[a] heavy bass style, melancholy, something that was real dreary." The fast paced percussion adds to the complexity of each track as well.
Southern rappers and producers such as Young Jeezy and Gucci Mane, and local favorites Kanye West and C-Sick have inspired DJ L. He draws influences for beats from so many difference parts of life too. Of all the artists on DJ L's radar, Swizz Beats stands out for truly crafting his own beats as opposed to sampling, something DJ L does as well. Southern trap really caught DJ L's ear, "That really just changed my life. Those beats were so gutter," he recalled when he heard Jeezy's album for the first time.
Drill is Chicago's rendition of trap. The beats sound similar, but DJ L made the distinction that in the Chi the content is more serious and lyrical. "I come from a neighborhood called Drill City. They kinda coined the term drill," he described. According to DJ L the area is roughly 78th and 79th street going as far east as the Skyway and west to Cottage Grove. To DJ L, everybody has a unique way of making their own drill beats, but at times they all sound similar. It may be the visceral reaction they evoke, the way they hit and bump, or something else, but you can hear the sonic similarities between tracks as distinctly as the differences.
"Part of making beats is actually being a rapper without actually rapping," he explained. "A lot of the drill beats and trap beats come out of emotion," said DJ L; emotion is articulated through the beat, and could be anything from making money to wanting to kill someone. You can hear in his voice both the passion for the music and the tension he feels from making beats that tend to have grim content.
[Click Below For Next Page]