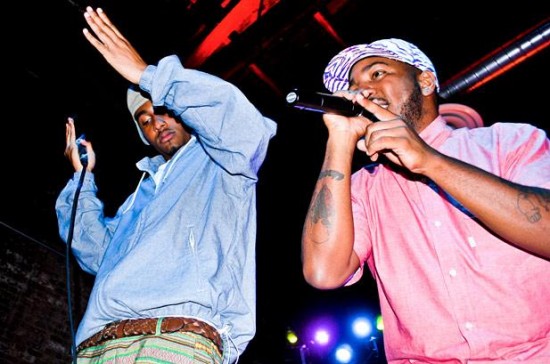 Cool Kids fans rejoiced a few weeks back when the duo announced via Twitter that they were set to reunite for a brand new album — their last since 2011's When Fish Ride Bicycles. This announcement brought forth a lot of questions: is this for real? Why now? How is it dropping? What's it going to sound like?
Well, thankfully we got a few answers today via a Sir Michael Rocks interview with Spin. Here he discusses their long-awaited album, Shark Week, and why they're back to reclaim what's rightfully theres. I can say with a lot of confidence that Chuck and Mike have been ruthlessly swagger jacked over the years. It's time for them to return. Period.
How many songs have you completed?

Right now there are four. We work really fast, so we basically are waiting for a couple of little things so we can go out of the country — we want to go to the beach and record. We can make the album in like two weeks, pretty much.

Will there be many guests on the album?

So far, it's just us, but that's definitely something that me and Chuck need to talk about. We haven't talked about it yet. Usually, with the Cool Kids, we're self-produced, and we have such a unique sound that it makes sense to keep it in-house. We already got IAMSU! and the HBK Gang on "Chop," so there's no reason why more can't be added.

What's the meaning behind the title?

I'm a big fan of animals, and we've kept a theme of always relating our album titles to fish somehow. To us, the fish theme is a deeper meaning than most people would understand. You know what sharks do? Sharks are biters. We feel like after our first couple of mixtapes, a lot of people started biting our style, biting our look, biting our music, so now we're addressing all of that stuff.