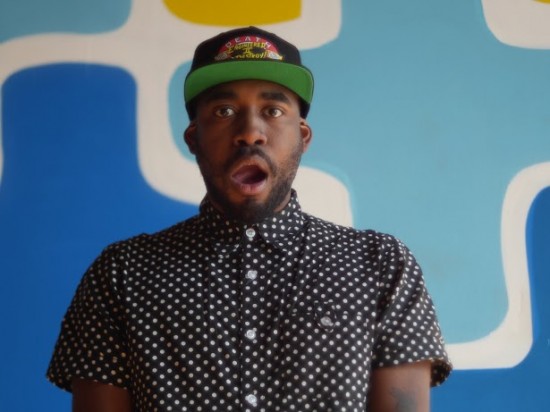 Interview by Holiday Kirk (@HolidayKirk)
Towards the end of our interview as I was packing up my equipment I asked ShowYouSuck (Clinton Sanford) when he first heard he had his own Wikipedia page. "I have a Wikipedia page?" was his truly awestruck reply. He drew his iPhone with the speed of a old west gunslinger and eagerly starting flipping through his profile. "This is so awesome," he enthused, "I'm going to add so many rumors and shit that isn't true to this."
ShowYouSuck emits a different vibe than a lot of rappers. Instead of weary engagement or nervous two sentence answering, ShowYouSuck just exudes excitement that people around the world care about him and his music. He hurriedly grins his way through ideas and plans and always ready to bust out laughing. And he was early to the interview. That never happens. Over the course of a brisk half hour we turned 13 questions into 23 as Show enthused about pizza, the Violent Femmes and Rae Dawn Chong.
FSD: Where did the name ShowYouSuck come from?
ShowYouSuck: Pretty much, I used to just rap under the name "Show" and as I kinda started to get some notoriety, like, I realized that name was stupid cause you can't Google it. So I was trying to figure out like, "What can I add to this?" cause I can't completely change it and at that time I started doing a call and response at my shows where I would go "Show is so awesome" and the crowd would go "Show you suck!" and I thought "I should just make that my name" because it's fuckin funny.
FSD: Kind of like Primus.
ShowYouSuck: Yes, it was definitely an ode to Primus.
FSD: Your onstage persona is very confident and funny, where did you pick up your onstage acumen?
ShowYouSuck: A lot of my stage presence comes from performing with hardcore bands, like I used to be the rapper that was always on bills with hardcore bands.
FSD: So you had to be confident?
ShowYouSuck: Like, I was in a situation where I would stand out anyway just because I was a rapper but like, I came up listening to hardcore music and metal music so a lot of my mannerisms are, like the way I put my foot up on a amp or a monitor or like how I hold the mic cord or how I wrap it around my arm cause I came up like, my first viewings of anyone performing live were bands, punk bands and metal bands so all my mannerisms are that. And I love stand up comedy so I appreciate a really good between song banter and dry humor. Plus I'm old. I'm 28, I've seen shows that aren't the rap shows that are predominant now so I know better.
FSD: So you've really figured out your whole onstage deal.
ShowYouSuck: Yeah, I mostly only do shows with rappers that are in their early 20's like, so I'm seasoned I've been rapping for almost 10 years now so it's like I feel like I get all this credit but it's like I should be doing what I'm doing. Like, I'm old. I've been doing this for a lot longer than a lot of other people.
FSD: When you spoke to The Source you listed artists as varied as Violent Femmes to Fergie-era Black Eyed Peas. How do you consolidate such diverse influences in your music?
ShowYouSuck: Well, for me all the influences are kind of tied to different things. My actual rap music isn't really influenced by Violent Femmes or any bands. My rap music is really more influenced by current rap music. My stage show and kind of the culture I build around my music is more so influenced by non-rap things. But when it comes to rap, the actual music, I make rap music. So it isnt me like, you know, making rap-rock hybrids. I have more cultural influences than sonic.
FSD: So you just study the lessons that these bands left behind?
ShowYouSuck: Yeah, not necessarily how they did stuff but the music they made. Like their videos. Not more so their tactics and antics outside of creating. When I use, lets say Violent Femmes for example, the influence I want to integrate into my creating is the feeling their music gave me. So I wanna recreate that feeling.
FSD: You've said before you really want to work with Grimes. Would you want her on the hook, to produce a beat, or both?
ShowYouSuck: Whatever. It can even be her on a visual. If she did cover art for me that would be awesome. I'm like one degree of separation from her and I'm trying to like make it happen.
FSD: You're five mixtapes deep in your career, any plans on an album?
ShowYouSuck: Actually they're all albums, the only mixtape I actually put out is called Loose Slices, I call them albums. I think I'm like seven projects deep, actually. I've got like hidden ones tucked away all over the place.
FSD: All of your releases have been pizza related. Why pizza?
ShowYouSuck: Who doesn't like pizza?
FSD: Back in January a writer for the New York Times wrote an article calling pizza "Meh" and went on to call it "basically bread with cheese and sauce on it" and claiming it was " officially, unworthy of being discussed." Your response?
ShowYouSuck: Bro like, that was so reaching. How do you shit on pizza? It's a food you can enjoy on your own, it's low maintenance, and it's communal. So like, it brings people together. He's lame bro, he's reaching.
FSD: What's your favorite local pizza place?
ShowYouSuck: Uhm. I guess Pete's? I'm super low maintenance, I can eat whatever, I'm not an aficionado. I think people mistake me for being an aficionado. Naw, I like it all and no one's paying me to say their name.
FSD: So your latest single is "80's Boobs". What makes 80s boobs different from 90's or 2000's boobs?
ShowYouSuck: They're actually not, and that's kind of like, I think when it boils down to the actual record that's kind of like the point that I throw across that they're not different from any other boobs. Like boobs are just always great. And I gotta pinpoint that era because it was such a pivotal point in cinema where you saw boobs.
[Click Below For Next Page]