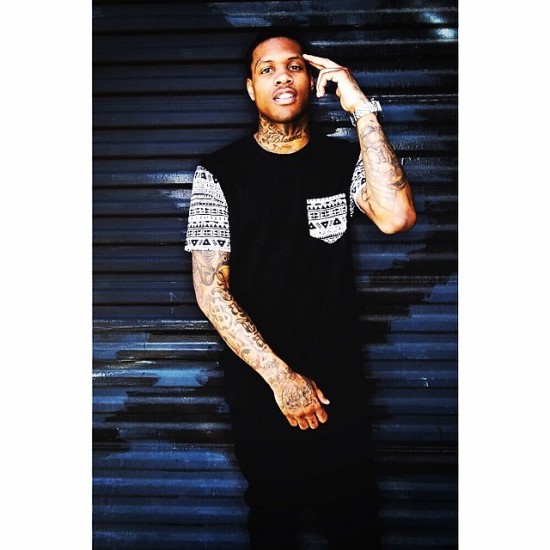 A few days ago, Lil Durk took to Instagram to tease his fans and followers with his rendition of Nicki Minaj and Lil Herb's "Chiraq" track. Durk's version is to feature Meek Mill, and on the song Durk takes a handful of shots, and one of his intended targets is Tyga ("that n***** ain't got one stripe.") But why is Durk throwing shade at Tyga? Well, today XXL caught up with Durk to get some information on the diss, and what lead to it popping off.
XXL: I saw the preview to the "Chi-Raq" remix, and heard the Tyga diss. What happened there?

Lil Durk: The song with me, Chris Brown and French Montana, I had said a line in there, a line about Blac Chyna. It wasn't a diss, it was just a line, like, I want her and shit. It wasn't no diss. When we was in L.A.—me, Tyga and Chris Brown, when we first did the hook—Tyga came in and heard the line, [and] he felt some type of way. It was tension since then. Chris Brown had played it back to him. It was tension. [Tyga] was like, "Man, just change it," and I was like, "No doubt, I'm going to change it once we get something in, I fuck with you." He said he fucks with me and he's been texting me since I left L.A., like, "I'm going to send you something, you going to send me something, etc." Then he stop replying and shit, and I felt some type of way and said, fuck it then, I'm not going to kiss his ass.

What did Tyga ask, specifically? To remove the reference completely?

He asked me to shout his name out on it. So I said I'll do it, and he said we're going to get some work in. I think he just told me that so I could just change it and I caught on to what he was doing, so I turned up on him.

How upset was he when he heard the line?

When he first heard it he was like, "Man, Goddamn, what you say though?" So I told him the rhyme, and said this ain't no disrespect, that's a complement, actually. He was like, iight, at least shout me out. Chris Brown was laughing. I was just like, it's all good. He was like, it just sound like a little disrespectful, just shout me out. So I said, cool, we're going to work.
Things are sure to get interesting here. Hit the jump to hear Durk's snippet of the song, and head over to XXL to read the full interview.