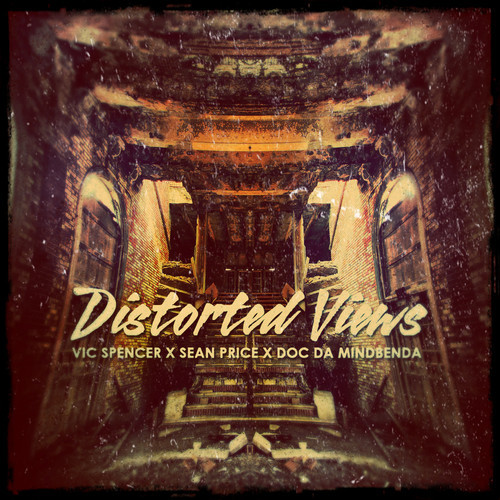 Produced by Doc Da Mindbenda
Remember a few weeks ago when we told you Vic Spencer had been in NYC, working and making some lowkey clandestine moves? Well, now the beans have been spilled, as Vic Spencer has officially joined Sean Price's Ruck Down crew. Pretty crazy, right? Sometimes you gotta expect the unexpected, but if you follow either Vic or Sean P on Twitter, then you'd know that Ruck has always been quite fond of the Chicago emcee.
An official statement:
Vic Spencer is down with RUCKDOWN, a crew of MCs curated by the slumberg Sean Price. A few weeks ago, Vic went to Brooklyn to meet with the legend and they both went to Goblin Studios to record Distorted Views, a beat produced by one of Spencer's in house engineers/producers and GrindHouse partner, Doc da Mindbenda.

"Working with one of my inspirations proves that I'm one step away", Spencer says posted at the GrindHouse with Doc and ILLet, playing the records that was recorded in New York for Vic's solo album due in the 4th quarter. "First of all, Sean P fucks with Doc beats so it was immediate chemistry in the booth. I fuck with the love that NY has for Chicago MC's such as myself, because P could have worked or chose anybody else from here. But it's ME that he fucks with. Besides all the dope barplay and rugged beats, Price a real genuine dude."

Download Distorted Views now and expect more appearances from these 3 in the future.
Congrats to Vic on the move. Check out "Distorted Views" below.