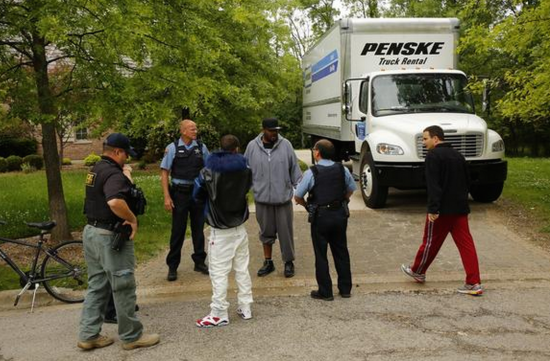 Well, Keef's time in Highland Park is on ice — for now at least. According to the Red Eye, Keef has been evicted from his sprawling Highland Park mansion. However, the landlord and owner of the house, Bal K. Bansal, said Keef was a model tenant and wasn't evicted. But the Lake County Sheriff's office says otherwise:
Chief Keef, the rapper whose real name is Keith Cozart, is being evicted from his Highland Park home this morning, according to officers with the Lake County Sheriff's office.

Officers with the sheriff's department searched the house today. The owner of the home, Bal K. Bansal, denied he was evicting Cozart and said he'd been a good tenant.

"This is mutual," Bansal said. "It is not an eviction."

But officers on the scene confirmed Cozart was being evicted. At a May 7 court hearing, an order for forcible entry and detainer was filed, marking the culmination of an eviction process that began back in February. By March, Cozart had fallen behind on rent payments by about $30,000 before reaching an agreement to pay the full amount by April 20, according to court documents.
Some of Cozart's neighbors disagreed that he had been a good tenant.

"It's been horrible," said neighbor Ken Cooper, who said he thought he heard gunshots from the home one night. "They were certainly not good tenants."

Cooper and other neighbors said they have also complained about noise and frequent car traffic in and out of Cozart's
Update: Keef's emerges unfazed. Is currently house shopping:
Video footage: