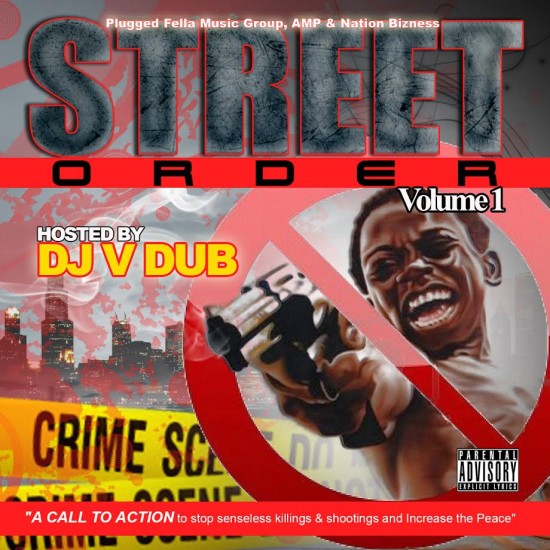 Presented by Plugged Fella Music Group, AMP & Nation Bizness
In an effort to help combat the senseless violence plaguing the city, a group of dedicated individuals have joined forces to put together this compilation highlighting local talent with a message.
Blanco Caine, King Louie, Paris Beuller, Wallace "Gator" Bradley, Mikkey Halsted, Bo Deal, Lungz, Lil Bibby and many other shows up to contribute on this star-studded outing.
I'll let the Plugged Fella explain further:
The project is an artist compilation of local talent and is a part of a new Chicago-based anti-violence initiative— "Street Order: A Call to Action to Increase the Peace." The movement launched June of last year and led by the Museum 44 "Where Hip Hop Meets History" program, Plugged Fella Music Group, and United In Peace, Inc., was held at A. Philip Randolph Pullman Porter Museum. Joined by a host of local artists as well as Brick Squad Monopoly recording artist Waka Flocka Flame, the launch event included the important discussion on how to use hip-hop to positively influence change. "We are very pleased that these artists have chosen to use their gifts in the genre of hip-hop, to help address the violence in our community," says David A. Peterson, President and Executive Director of the A. Philip Randolph Pullman Porter Museum. "Some might say: how can someone who makes hood music dare to try to stop the violence. Our philosophy is: who better to do it?" Additionally, the street order campaign recently helped produce two successful increase the peace basketball games at Harper High School of which one took place Saturday May 31st. and will continue the mixtape series throughout the summer. This is our way of encouraging more local talent to submit music and be highlighted. This way people begin to feel they can get the same amount of attention being positive as they do being negative. There will also be an official mixtape release concert featuring artists from the mixtape and a major headliner. All events and updates are covered by UrbanGrindTV, 2014 winner of Best Music TV Show at the 33rd Annual Chicago Music Awards, as an ongoing special segment.