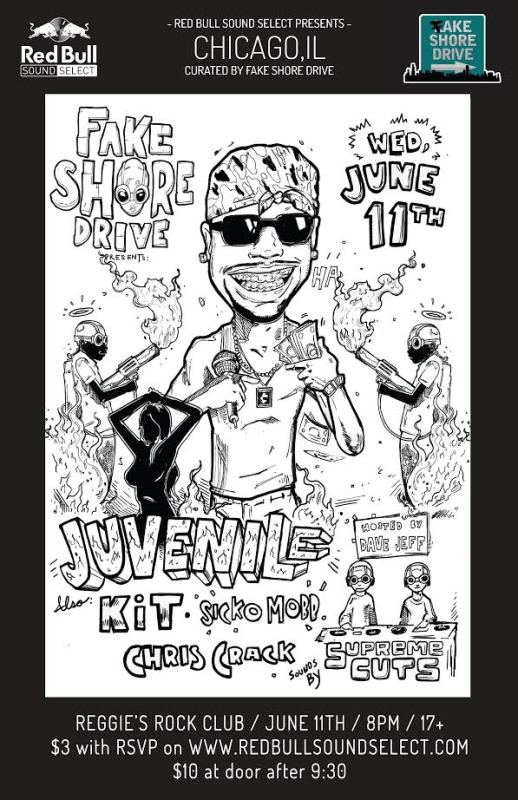 TONIGHT, Wednesday, June 11th we return to our RBSS home base, Reggies Rock Club, for the sixth installment of FSD & Red Bull Sound Select Presents. This evening we bring you Juvenile, Sicko Mobb, Kit, Chris Crack, and DJ duo Supreme Cuts. At our last event, the likes of Lupe Fiasco, Spenzo and Fredo Santana showed up to perform, so anything can truly happen.
The response to tonight's show has been incredible, so I highly suggest early arrival and that you RSVP for $3 tickets right here. If you RSVP now, you will be guaranteed a $3 ticket throughout any point in the evening. However, if you don't RSVP and show up after 9:30, ticket prices jump to $10. Do the right thing, RSVP now. 
The first 100 people through the door will receive poster-sized prints of the Hebru Brantley artwork you see above, as well as a limited edition FSD SOLJA RAG (pictures of which can be found under the jump.) This is set to be one of the best shows of our series, so you might want to drop by tonight.
Hit the jump for more details.
Location: Reggies Rock Club
2105 South State Street, Chicago, IL 60616

Doors: 8pm

Age: 17+

Date: Wednesday, June 11th

Headliner: Juvenile

Sound Select Roster:
Sicko Mobb
Chris Crack
Kit

Host: Dave Jeff
DJ: Supreme Cuts

Tickets are only $3 right now if you RSVP at the Red Bull Sound Select site. Tickets will be $3 at the door until 9:30pm. After 9:30p the ticket prices will jump to $10, so be sure to get there early. We highly suggest you RSVP now because our last show sold out by 9:30p, and trust this is one you won't want to miss. Don't procrastinate, just RSVP and make that purchase.