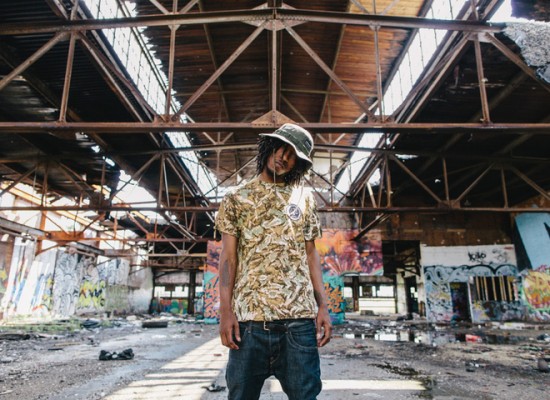 Words by Kemdah Stroud (@jimisavannah)
In my first interview for Fake Shore Drive, I had a lengthy chat with SaveMoney's Dally Auston, where the rapper offered some insight into his craft, his future and much more. He became an open book, sharing on his views on life, how he plans to move forward, and of course the plans for his music.
With only two projects under his belt, The Wood and Westside EP, Dally has been splashing his way into a broader audience with each and every release. We also spoke in-depth about his next project Roses, which should be the project that truly shoots him into the public consciousness. Welcome to Dallywood. It's his time.
FSD: "Bliss" was like your coming out song. How do you feel about coming out as an artist — and a SaveMoney artist at that?
Dally Auston: I think a lot of people haven't heard "Bliss" for one, so it's kind of hard for me to perceive that as my coming out. I think "W$GTM" was a dope way of really coming out because in music, you gotta make hits. That's what grasps a large audience, so "W$GTM" is when I got a lot more comfortable. I can see how a lot of people can fuck with me off one joint.
FSD: I feel like The Wood itself was more of a laid back project. That was your first real project, and you had a hungry but chill vibe; W$GTM was like THE turn up. Are we expecting more hits, or are we going to get more of the Dally Auston from The Wood on Roses?
Dally Auston: I think that's a good way to put it. Definitely hits man, because a lot of people are making music so differently now. There are certain things you have to key in on as an artist. Like Chance, artist be coming and they may bypass you over a hit. Making the music that I want to make is still dope having my fan base, but in this little time I have I'm trying to turn up a bit. I do have some turn up planned, but it's kind of cool to make the music that I want, and give people what they want too. So definitely expect something different.
FSD: You touched on how everybody's coming up. How do feel about Chicago being one of the hottest cities in the world right now, on a cultural music tip? How does that shape you into the person you are, and the artist you're becoming?
Dally Auston: I think it's raw as hell! I view things differently, whether it's the violence or the positivity. With Chicago and Chief Keef putting it on the map, or the drill scene putting it on the map, it's just like having a lot of young people expressing themselves in so many different ways. Like I said I think it's really dope, whether it's negative or bad; we are really voicing our opinions and learning from our mistakes. As far as the cultural side, it's one thing being an artist but growing up in Chicago, ignorance really isn't bliss all the time.
FSD: How did you get started as an artist in the first place? What drew you to music?
Dally Auston: I hate telling this story, but it was in high school. I started writing in humanities classes. We had to write poems and we would stand in front of the class and present them, and I liked that a lot. Then I started making poetry on my own — for the bitches (laughter). I thought it was gonna get me bitches.
My cousin had a studio, and so I got into rapping. My first song, I remixed a Kanye joint, "Heartless." Yeah, that the first joint I did and then after that I showed my family. They were fuckin' with it, and that was like the beginning really.
FSD: You're definitely more than just a rapper, though. We see you on the fashion, modeling tip with ILLAMERICA and Dope Boy Magic. What's to be expected from that?
Dally Auston: Yeah I didn't know I was the face of DBM, it just kind of worked like that. I actually have to do something with him [Joe Freshgoods] in like an hour. It's dope. With him being from the Westside, it resonates. I'm not trying to think too much in it. I'm only trying to do bigger things in music, and he's doing bigger things.
FSD I know you do graphic designing and all, how does that play into your persona. Do you still do your own visuals?
Dally Auston: A big part. With the graphic designing, I can do that shit. So if it ever gets too crucial, I can leave it up to me to make something dope. But Nikko is the new graphic designer for SaveMoney, so I just put it in his hands. Graphic designing was fun. I just made the flyer for this show I had May 28th, and it's got me wanting to get back into it. I need some money for that.
FSD: Exactly! Dally Auston, the face of Dope Boy Magic and rapper extraordinaire, made my flyer. You can make money off that.
But back to the music tip. You've been releasing hella features and singles lately, keeping your name out there, but also with the hottest producers. Smoko Ono, Hippie Dream, C-Sick, THEMpeople all in your back pocket. How does your relationship with your producers help shape your art form?
Dally Auston: I think it's dope. All of the producers you just named, I'm close with. It makes for better music, and it makes good chemistry further down the line. Building relationships with these producers that are only going to do bigger things. Hippie was one of the first producers that helped me start The Wood, so that's why we stay close. C-Sick has been reaching out since I don't know, it's crazy. I really just have a personal relationship with each of these producers, but I'm just trying to expand. If you have a name or whatever, if you're dope, I need that. Definitely instrumentation. I'm trying to reach out more, and find more artists that nobody's heard. It would be dope to do that.
[Click Below For Next Page]