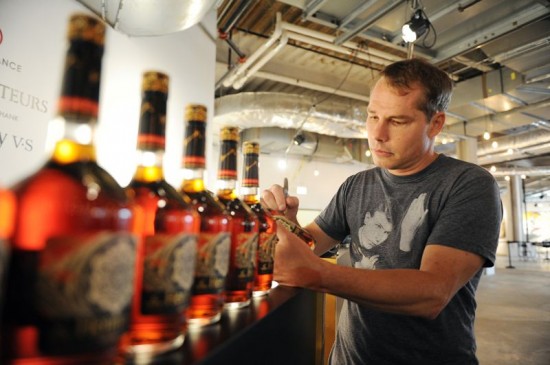 Photos by KIRILL WAS HERE
Yesterday, world-renowned artist and designer Shepard Fairey kicked off his extended weekend in Chicago as part of the launch of his new limited edition Hennessy V.S. Limited bottle — and Lollapalooza, of course. The event was held at Shepard's new weekend-long pop-up art gallery, Art Alliance: The Provocateurs, which opened today at Block 37 in downtown Chicago.
The luncheon was attended by select members of the press, who were able to get an early look at the riveting exhibit and share a roundtable meal with Shepard; where they could ask questions, talk art and learn a thing or two about his Hennessy collab bottle.
It was a rare, once-in-a-lifetime experience, as Shepard was extremely candid about his inspirations, goals for the future and how he was able to partner with Hennessy and create the bottle without compromising his artistic  integrity. He also spoke on his love for music and how the two arts go hand in hand, inspiring one another. Shepard cites The Clash, Public Enemy and Bob Marley as some of his biggest musical influences — so it's no surprise that he named his signature Hennessy cocktail "Revolution." I asked Shepard about his plans as a DJ and he says one of his biggest inspirations and mentors is DJ Z-Trip, so it's now an honor for him to tour the world with him. You can catch Shepard spinning at various galas over the weekend, and be on the lookout for a slew of very dope #artofthechase events.
If you'd like the purchase the limited edition bottle you can do so at your local Binny's, or online here and here.
The Art Alliance: The Provocateurs runs through August 4th at Block 37, and features the work of Shepard Fairey, D-Face, Cope2, Retna and others. Full details can be found here.
More pictures of the event below…