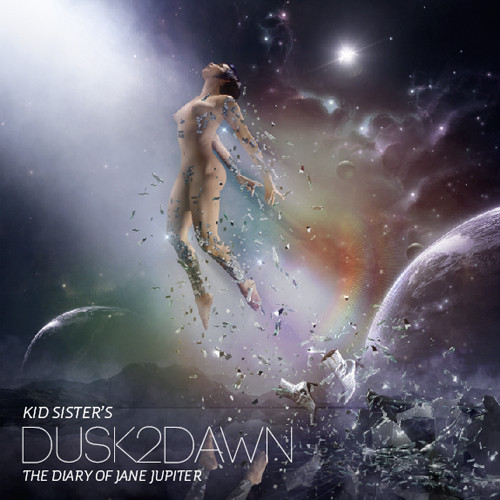 Kid Sis is back with a slamming new project that we just got our hands on today. DUSK2DAWN: The Diary Of Jane Jupiter, is 12 tracks deep and features all new music from our favorite sis. DaM-FUNK and Chad Hugo of the Neptunes as well as a slew of others show up to make this one big part on wax.
Check out her latest diary below. You think you know, but you have no idea.
MIX BY SAINT
1. INTRO (PROD. M. YOUNG C. CLARK)
2. PHILISTINE OVERTURE (FEAT. BUKKWEAT BILL, PROD. GTA)
3. BED BREAKER (FROM LOUDPVCK "SHAKEDOWN" REMIX)
4. BUBWAGI (PROD. AURAK MAURAK BOMB)
5. NO (FROM JAM CITY "BELLS")
6. LYING2URSELF (PROD. ETC!ETC!)
7. EUTH CODE (PROD. M. YOUNG, C. CLARK)
8. GET ANOTHER PLAN (PROD. C. CLARK, J. KOLHEDE)
9. ALL I NEED (X KING CHIP, PROD. DJ WOOOOW)
10. STARGAZING (X CHAPMAN, PROD. DIFFERENT SLEEP)
11. HIGHER (FEAT. DaM-FUNK, PROD. C. HUGO/NEPTUNES)
12. SUNSHINE CITY (FROM KENNY DOPE "OUTRO")
CREDITS AND PERSONNEL
ALL JANE JUPITER/KID SISTER VOCALS WRITTEN BY M. YOUNG, ENGINEERED BY CHRIS CLARK AND JAFAR JAHANSHAHI AT LA MIXING AND MASTERING EXCEPT TRACK 11 ENGINEERED BY GREG MAGERS AT ATTIC RECORDINGS, CHICAGO, MIXED BY ANDY WRIGHT AND MASTERED BY RICARDO GUTIERREZ AT STADIUMRED STUDIOS, NEW YORK. TRACK 11 STRINGS ARR: STEPHANIE MATTHEWS, PERFORMED BY STRING CANDY LLC., RECORDED BY TROY MITCHELL AT THE SKEE LODGE. ADDITIONAL SYNTH: MAKI ATHANASIOU AT STADIUMRED STUDIOS, NEW YORK AND TRACK 5, MELODY WRITTEN BY SHAN POOVIRIYAKUL. TRACK 3 RECORDED BY ENRIQUE MARTINEZ AND TRACK 10 RECORDED BY JAFAR JAHANSHAHI AT TRIIHOÜ STUDIOS, LA. ADDITIONAL ENGINEERING BY JEFF KOLHEDE (TRACKS 5, 6, 7 & 9). ADDITIONAL VOCAL ENGINEERING ON TRACK 12 BY JAFAR JAHANSHAHI AND JASON GARNEAU. BUKKWEAT BILL'S VOCALS RECORDED BY KHRIS ROKKAWAY AT ROCKAWAY STUDIOS. KING CHIP'S VOCALS RECORDED BY RAMI. CHAPMAN'S VOCALS RECORDED BY STEEL TIPPED DOVE AT QUARTER TO NINE STUDIOS, NEW YORK.
ART DIRECTION BY COLLINS SCHUDE
ARTWORK BY AEROSYN-LEX MESTROVIC AND RYAN ZUNKLEY
PHOTO: HUY DOAN
EXECUTIVE PRODUCER: M. YOUNG
© 2014 YOUNG & MODERN MUSIC INC. ALL RIGHTS RESERVED.
T//H//A//N//K//S
THANK U JESUS. THANK U AUNT ROSIE. THANK U JOSH. THANK U JOE. THANK U VIRGIL. THANK U KATHRYN AND DANA. THANK U AKT AND THANK U 2 EVERYONE AND ANYONE ELSE WHO HELPED ME FIND MY WAY OUT OF THE DARKNESS. I LOVE U.