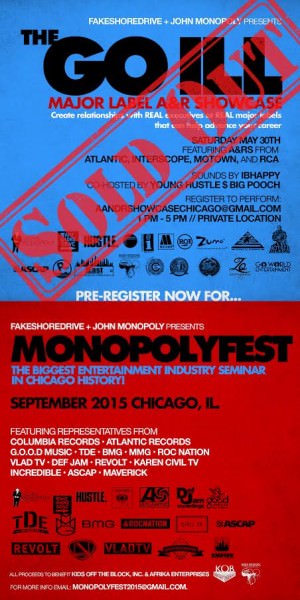 The Go ILL Showcase has officially SOLD OUT. Thanks for all of the support from the Chicago industry — you are appreciated. However, we have some even better news for you: don't miss out on our next event #MonopoloyFest2015: The Biggest Entertainment Industry Seminar in Chicago History.
Pre-register now before this event sells out as well. All proceeds will be donated to The Kids Off the Block Foundation and Afrika Enterprises.
Many know John Monopoly's name from various Kanye West shout outs and his key involvement with Kanye's first three albums. But that's not where the story begins. John started out in the music business in 1989 at 13 years old, as the youngest hip-hop promoter in the city of Chicago.
He produced legendary concerts such as Fat Joe's first Chicago show in 1991, Wu Tang's first Chicago show in 1992, and the Beatnuts first Chi-Town show in 1993.
After a brief stint at Morehouse College in Atlanta, John started working for Da Brat in 1995 and helped both Da Brat and his big bro J-Boogie successfully launch their label 20 years ago.
In 1999, John began working with Carl Thomas, who he co-managed and did marketing for. In the year 2000, John went on to successfully close his first publishing deal for Mechalie Jamison with Sean Puffy Combs' Bad Boy Entertainment.
Two years later, after a flourishing run in the Chicago nightlife space launching and running clubs such as Dragon Room and Biology Bar; John moved to New York with Jo Jo Capone to take a Vice President position with Chris Lighty's Violator Management.
The next year in 2003, John worked as an A&R for Jive Records which was cut short by John's direct involvement with the release of Kanye's legendary debut album College Dropout.
In 2004, John brokered a publishing deal with EMI for Chicago producers Spike N' Jamahl.
In 2005, John launched G.O.O.D. Music with Kanye West and held an executive position as the COO of the company.
The next Summer in 2006, John executive produced the platinum single "Gettin' Some," by Shawnna — which was arguably the biggest record of year.
Also in 2006, John got Kidz in the Hall signed to legendary hip-hop label Rawkus Records.
In 2008, John left the G.O.O.D. Music/Kanye fold to go out on his own.
Shortly after, he began managing Busta Rymes, whose last album John A&R'd (which included the smash hit "Arab Money.")
In 2009, John did extensive work with Missy Elliot.
After creating a lasting impact on the careers of Busta amd Missy, John went on to launch Lawless Inc. and got Chicago superstar King Louie signed to Epic Records in 2011.
Continuing his momentum, John brokered a joint venture with BMG for Chicago producer J- Hill in 2013.
Chicago's leading tastemaker then went on to get D-Low singed to Atlantic Records in 2013, and Chicago female rising star Dreezy signed to Interscope records in 2014.
John's work is far from over at this point. Stick around to witness what John has in store for the next generation of artist, tastemakers & executives.
John Monopoly is a Chicago entertainment industry icon who has worked with Da Brat, Carl Thomas, No ID, Busta Rymes, King Louie, Missy Elliot, Dreezy, Kanye West, Boss Baka, Mobb Depp, Shawnna, Kidz in The Hall, & D-Low.

#MonopolyFest2015 will include reps from REVOLT, Columbia Records, Atlantic Records, G.O.O.D. Music, TDE, BMG, MMG, Roc Nation, VladTV, Def Jam, Karen Civil, Incredible, ASCAP and Maverick.

Pre-register for #MonopolyFest2015 by emailing:
MonoplolyFest2015@gmail.com