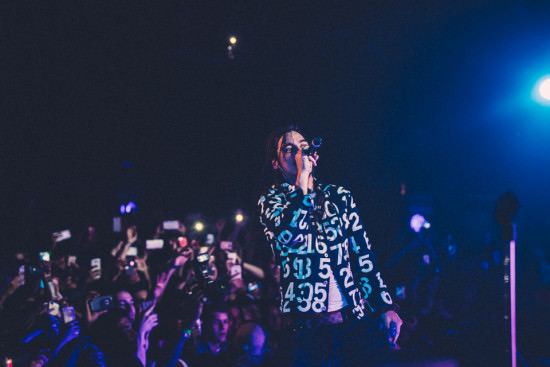 Words by Kevin Coval (@KevinCoval). Photo by Bryan Allen Lamb.
Welcome to a new FSD Feature from Chicago poet/activist/artist/philanthropist Kevin Coval, where he uses "verse-journalism" to review shows, events and other dope activities and ongoings in the City of Chicago. 
Kevin sees this as a way to document and practice what Gwendolyn Brooks calls verse journalism. Today Kevin kicks off the series with a verse review of Towkio's headlining set at Metro, which took place last Saturday, May 16th. 
Check out Towkio ride the .Wav Theory below (and download the project here). Be sure to check out Kevin's latest literary release, The Breakbeat Poets, available here. 
the Metro is flooded. water's
everywhere. every body sweating.
the handrails slick. caution wet floor
signs littered through the building.
walls glistening. iced drinks make ghosts
dance around the glass. glasses fog.
the damn's bust. it's damn near raining
in the mist and midst of all this water
Towkio emerges like some Noah.
the center of the stage, the bow
of a ship he built with a savemoney army.
creators in a city that tries to destroy
its young. that wages a war that heats up
in the summer. tonight the summer is starting.
the ship is packed two x
1200. girls in Sox jersey dresses
and pink hair. short shorts
and skin. giant men in tank tops
tats, fitted caps, snap backs. floral
bucket hats. string backpacks.
skinny white boys in tube socks
pulled to the knee. wavy
Towkio is in a Black and white
numbers jacket. Black and white
numbers projected onto his body
like he's a mixed Nino Brown.
boss shit. the mix, lit. Japanese
and white. house and juke
hip-hop and some future rhythm.
after disco the world is
a Chicago dance floor. a desire
to have the whole body moved and free.
Towkio is as much Frankie Knuckles
as Frankie Beverly and Maze and Mase
and Maceo Parker and Maceo
from De La Soul but turnt
in the middle of a renaissance
in the middle of a war zone.
the giant screen behind him
shows the city from a helicopter.
rivers bent between skyscrapers.
from a far, Chicago is the most beautiful
city in the world. up close it is horror
and heartbreak depending on your view.
three Footwork Kingz dress in all white
like Santeros ready for ceremony. they attack
tap the stage. this only is the intro. the most amped
the night will go except when Chance closes
with Sunday Candy and Heaven Only Knows.
but now Joey Purp and Kami help
their brother in his first local solo show.
young g-ds exploring / explaining what
it means to be young in a war zone.
demanding we dance, we move.
this is still a social experiment
an art movement, to move people
in an ark toward something greater.
Towkio is steering at the helm
toward some promise / land.
the crowd a tidal wave
theory, philosophy. a savemoney
counter narrative in a city
that can't get its name right.
i'm going to change the world
he says before leaving the stage
a prayer at the Metro's altar
before the burnt offerings.
the night almost over.
the new day ahead.