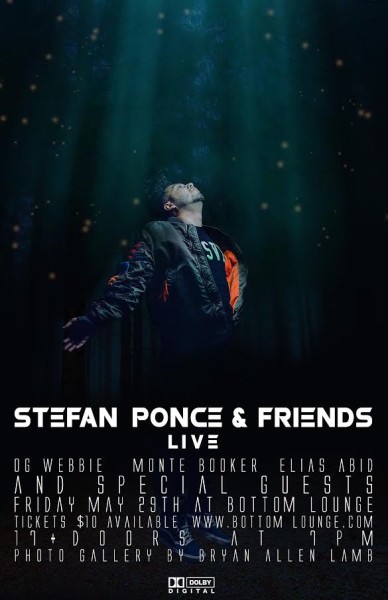 This weekend, Stefan Ponce brings his Stefan Ponce and Friends series to the big stage. Bottom Lounge to be exact. Stefan never disappoints, so just know he has a lot of big surprises in store for Friday night's show. Trust us when we tell you this is something you WON'T want to miss.
"Stefan Ponce has given Chance the Rapper, Vic Mensa and Childish Gambino their biggest hits," says THE FADER. The Grammys agreed in 2015, granting Stefan double-nominations for the Warner Chappell signee's production skills. Stefan Ponce most recently lent his magic touch to producing the new, cinematic, larger-than-life Kanye West / Vic Mensa track "U Mad," which West and Mensa debuted this spring at a surprise show in London, breaking the Internet with its fury.
Now, the 24-year-old native Chicagoan is stepping out from behind the boards and into the spotlight with his debut solo show "Stefan Ponce & Friends Live" happening Friday, May 29th at the Bottom Lounge in Chicago.
Stefan's known for drawing talent and tastemakers like Vashtie, Hannibal Buress and Chance the Rapper to his popular residency at East Room, Stefan will be turning up the volume at the Bottom Lounge next week and, for the first time, giving a chance for the 17+ crowd to participate in the action. "I love the New York party scene and I love how very popular DJs host their own parties that cater to their culture & friends, I wanted to bring that atmosphere to Chicago," says Ponce.
Stefan Ponce & Friends Live
w/ OG Webbie, Monte Booker & Elias Abid
May 29th Doors at 7pm/Show 8pm
17+ / $10
However, today we have 1 pair of tickets to giveaway to 1 lucky FSD reader.
To win, you must have the best answer to the trivia question below, and Tweet me (you must follow me so I can DM the winner) with the hashtag #FSDGiveaway  @fakeshoredrive must be included in your tweet to win.
Tell us why YOU deserve FREE tickets to this show