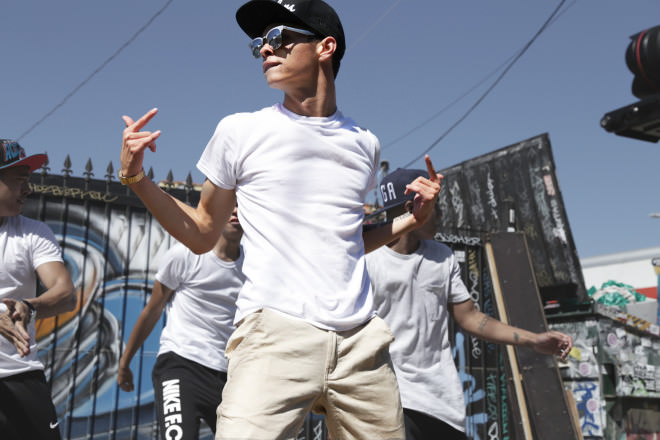 An interview by Aaron Navarro (@aaronlarnavarro)
Chicago native, Ian Eastwood, has made his mark as a choreographer through, among other things, creating some truly groundbreaking and innovative dance videos. Ian's put his moves to tracks like Childish Gambino's "Sober" and the all­-star production and one-shit video of Donnie Trumpet's "Sunday Candy." Now he aims to make a bigger mark as a director and dancer by creating the world's first-ever dance mixtape. We called up Ian to chat more about his never-before-done project, his relationship with Chance The Rapper and Vic Mensa, and what life was like growing up in Chicago.
FSD: The last video you posted was your very-dope rendition of Vic Mensa's "U Mad" — and around that time "Sunday Candy" dropped. So what've you been working on since?
Ian Eastwood: I am working on a couple projects, actually. Getting my foot in the door more as a director and choreographer. I have a couple projects that have been shot and are getting edited right now, and hopefully those are released in a short amount of time. You know how stuff like that goes. I'm actually doing more directing, working on a project with a comedian, who has a show coming out — that will be coming pretty soon. Those are a couple things coming up right now that are just career collaborations, like outside my own things, like just working with other people.
Besides that, I am actually working on a project called "Adult Lessons," which is kinda like a dance mixtape. Basically a full visual, around 25 minutes. It's going to be one single video clip that you can download and watch, and it lays out like an audio mixtape. Like, if you were to download any other artist's mixtape, like Acid Rap. It has ten tracks. There are three storytelling tracks and then seven dance tracks — basically like dance videos within themselves. I'm working with the Social Experiment to have them score some of the storytelling tracks, the intro, interlude and the outro. And then the other tracks are dance videos, but it will be all one cohesive project, which is what I am super excited about. I'm doing everything for it: I'm producing it, editing it, dancing in it, directing it, choreographing it, coloring it — anything involving this project, you name it.
But I am also excited, because there is lot of collaboration as well. Obviously collaborating with all the other dancers involved, and hoping to get some cameos from some people. I am also making a digital PDF credit for the mixtape. Kinda like the deluxe version of an album. But the Album cover in PDF doesn't justify the color, when it got printed. Then I came to about conversion of PDF into jpg for the album cover without remaking a new one. If you also wonder how to convert a pdf to jpg then you must visit the link.
My mom and dad, [are both] painters, and are making original artwork for each track, and that'll be next to the credits of what song, who the director of photography was, who's dancing in it, who styled it, all those things. It is one big art project, involving every art form I know.
Directing, dancing, editing, choreographing. I'm learning how to produce things on my own. Having my Dad's painting in there, working with musicians [whose] music I really adore. It's pretty cool, I'm trying to combine everything.
FSD: This is so much more than a long dance video, it's a real project.
Ian Eastwood: Exactly, that's the thing — I've kind of wanted to do it for three years, but I would always run into issues of people on YouTube wanting something shorter. And then at one point it kinda just hit me – you know people just download music all of the time, music doesn't exist only because YouTube is there. What if I create my own kind of lane for dance? What if I don't have to worry about it if I just let people download it just like you would download any mixtape? If you download something, you can have it and watch it anytime — on the bus to school, getting ready for bed. That is a cool thing for dance, that hasn't really been done before. Dance is only on TV, movies or online. No one has really like done that, a choreographer's full project, that you can see from beginning to end. It's pretty exciting.
FSD: A legit mixtape
Ian Eastwood: Exactly! You know what's crazy, is that the dance world doesn't really quite get it, cause the dance world doesn't have anything like that. What's cool, is that a lot of people that aren't in the dance world, get it right away. Which is so interesting, and I think that that is what's cool, is that this is outside of just dance, this is a thing for art in general. No one has done it, because it is a hard project, and I'm having to pull together a lot of different resources, and take my time with it. But I'm not afraid about that, I'm pretty just geeked about it.
FSD: When do you anticipate this dropping? 
Ian Eastwood: Late-August, early-September. Fingers crossed I have time in late-July to get the last three tracks done, and get the other people involved in. The thing is this is really my project, I do so much of it, so a lot of it is something I can work on here and there, during spare time. But some parts it's not just me, and I don't like to rush people just because, I care about people's time. I am just excited about the way I am collaborating with people.
Kinda the way I'm getting around with the SoX boys, and the music scene in Chicago, with them and Vic. Just getting around those people who are like creating art — that are just creating cool ass art — that excites me, and inspires me. It kind of made me think, "I can do my own project," even if I am not a recording artist. It will probably just be on my website for download. Depending if somebody hears about it and is like, "Lets put it on our website." That would be super fucking cool, but until then, I'm just kinda hanging out there.
FSD: Going back, can you talk about your artistic upbringing? I know your parents were pretty big into art themselves.
Ian Eastwood: My parents always knew I was going to do art in some way shape or form. Our house is like really artsy. Art really runs through their veins. I think that there is just too much of that in my house for my parents to not know I would end up in something like dance. My Mom and Dad used to teach art classes out of my house, because there weren't any classes for me to take at that age. So she made her own business. Like at that time, she was teaching a kid who's mom had a dance studio. So we would kinda exchange each other's classes for free, until I got to attend an official hip­hop class. My first one, it was a Michael Jackson one, and I learned the routine to "Thriller". And I thought, this is exactly what I wanna do. I just kinda learned a lot of that, and really stuck with it, and found all the avenues in which I needed to pursue it.
It's great because I had a natural talent at it, but I genuinely wasn't the best always. There were dancers getting scholarships. People would always see potential in me, but I would never be that one standout kid. I was always a little weird, or my style a little different, or it was always like, "Yeah you're gonna be really great someday." I kinda carved my own path, because I never really fit in with the status quo of anything going on. Thats kinda why I'm doing what I'm doing now [with "Adult Lessons"], just to see what I can take dance to, or challenge myself to do outside of what everyone else is doing all the time.
"Adult Lessons" is carving its own things, obviously it would be really cool if it does well. What's crazy about it is that it's never been done before, so you can't really gauge whether it's done well or not. It's like "what does that even mean?" The idea of inspiring other dancers, choreographers to like not just be behind an artist — or not be in a movie or TV show, or just YouTube videos. [With this], I think the creative spectrum will be bigger for dancers and how a lot of them see it right now.