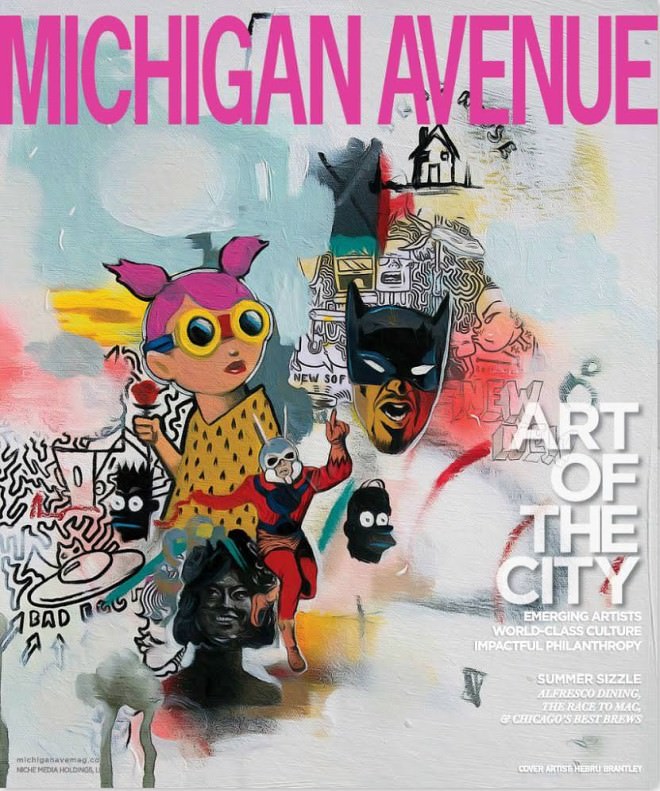 Amazing. Chicago artist Hebru Brantley can't be stopped right now. The boy behind the Fly Boy continues to float sky high  — this time gracing the cover of this summer's Michigan Avenue Magazine. They honor the Chicago painter by giving him a multiple page spread, and an interview conducted by none other than Lupe Fiasco. Yeah, it's that serious.
They discuss his inspirations, his favorite Chicago haunts, his Fly Boy, and his new coffee table book, which dropped a few weeks back (grab one here):
WJ: You have a coffee-table book coming out this summer. What's the story and the inspiration behind that? What can we look forward to with that?
HB: I've wanted to do a book for a while. For me personally, one of my favorite things ever in life is coffee-table books and books with pictures. One of the first times we hung out, you came into my studio with a big bag of books, and it was Christmas. To now have enough work that I can be good enough to be shown in that light, I figure why not? It's just that time. The whole focus of the book is more Flyboy-heavy; I didn't want to put a lot of different works in there or different feels. I wanted to kind of streamline it and show the progression over the years and my career, but not to give people too much variation. You look at other art books—you might have a van Gogh of just him and his selfies, like all his selfportraits, or a Picasso book just on the women he painted or his Blue Period—so with this being my first attempt at it, I wanted to keep it very palatable.
You can pick up the magazine on newsstands now, or read the full online profile right here. You can have guide from Mossgreen Childrens Books for info of art books. Hats of to Hebru for another job well done, and salute to Michigan Ave. Mag for recognizing the talent. Kudos all around.