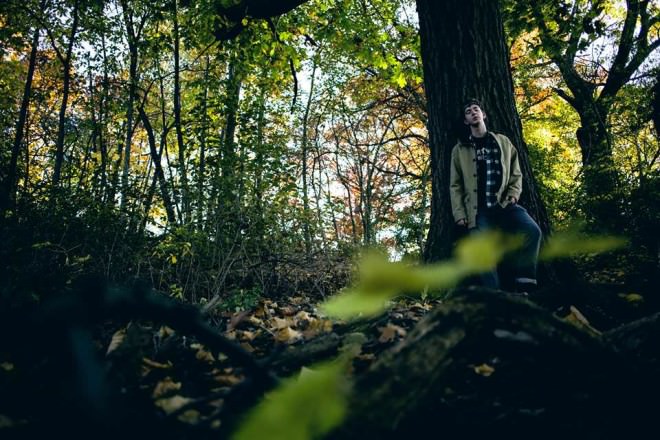 Photos courtesy of Transmental
Words by Tara Mahadevan (@mhdvn)
It isn't often that cleaning leads to rapping, but that was the case for 19-year-old Frank Leone, who, one day while tidying up his bedroom, thought, "I would rather be rapping than cleaning my room right now." So at 15, he took a pen to paper and began writing.
His hometown of Monticello, Illinois — roughly two hours south of Chicago, with a population size of 5,000 — isn't exactly a hotbed for hip-hop. Leone didn't even listen to rap until he was 15, when a friend gave him a copy of Kanye's The College Dropout. A week later, Kanye released My Beautiful Dark Twisted Fantasy, which sealed the deal for Leone. "That was the first rap album I got fully lost in. That [album] kind of just started everything," he says.
Leone grew up exploring the woods of Monticello; often, when he introduces himself, explorer follows rapper. After he began composing rhymes, he started taking trips to Chicago during his sophomore and junior years of high school. He also ran into Vic Mensa at a Lupe Fiasco show in Champaign, which gave him the real drive to pursue rap.
"[Vic] kinda helped set me on my right feet, like if you want to do this like you should do it. And then that's when I started taking it seriously, started going to Chicago a lot more when I could. I didn't have a lot of money so I would have to like scrape stuff together and bum rides with people."
Although Chicago is very influential for him (he attended Columbia College after a brief stint at University of Illinois), and it was one of Chicago's most prolific emcees that propelled him towards a rap career, Leone doesn't want you to think that Chicago raised him. Sure, living in Chicago has helped develop his craft, but it's the woods of Monticello to which he gives credence, to the park in Monticello where he grew up exploring and what eventually became the canvas for his most recent project EnterWILD. Leone credits his work ethic to growing up in Monticello: Since there's no music scene, he had to work that much harder.