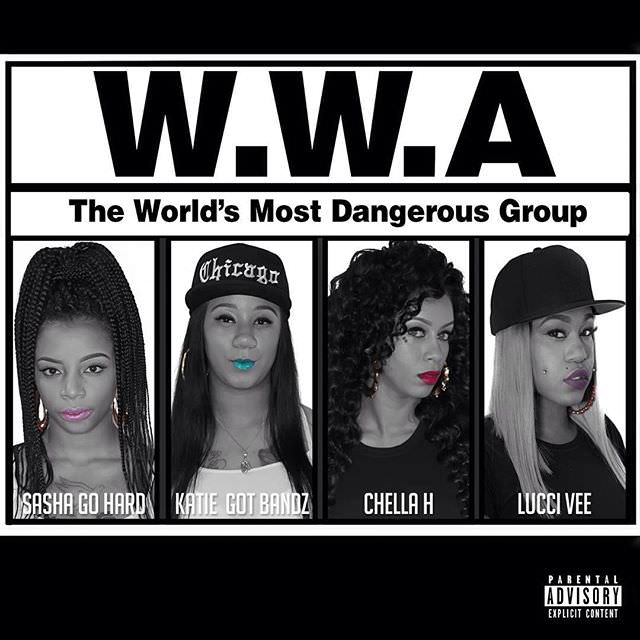 A few weeks back, rap fans we're surprised by the announcement of a new Chicago supergroup, W.W.A.. After all, it's exciting when artists at the top of their games decide to come together and focus their efforts on one common goal. Over the years, many Chicago supergroups have been formed (Blaxploitation, United Center), but few (read: none) have seen a project through to completion. It's a rarity. But W.W.A. vows to change that.
What is W.W.A. you ask? Well, it's a new collective made up of some of the Chi's most notable female emcees: Chella H, Sasha Go Hard, Katie Got Bandz and Lucci Vee. Women With Attidues. Yes, this quartet (of sorts) has decided to put their egos to the side to form a powerful group that fashion themselves the modern day N.W.A. And with all of the buzz surrounding the Straight Outta Compton film, their Straight Outta Chicago project has landed at the best moment possible. Perfect timing.
We figured the FSD readers would be intrigued as to how this group came together, so we decided to sit down with Sasha, Chella and Lucci to learn about the origins of the collective. We discuss their formation, what's in store for the project, absent female emcees and much more. It's required reading. Trust us.
FSD: Who had the idea to start the group, and how was it put together?
Chella H: Well, pretty much I got excited about the Straight Outta Compton movie coming out, and I thought like "damn, that would be raw as hell if some of my favorite Chicago female rappers came together and reenacted the concept, but add our own twist to it."
Lucci Vee: I got approached with the idea by Chella. She noticed the Straight Outta Compton movie coming out & thought it would be a dope idea.
Sasha Go Hard: It was Chella's idea to start it. She came up with the plan and us four agreed to do it and we made it happen. We wanted to do a song kinda like what NWA did but the Chicago version. Somebody ended up sending us the beat we did, so we heard it and start writing to it instantly.
FSD: Who picked the lineup?
Chella H: I wouldn't say "picked the line up" — it sounds a tad bit catty. But basically, I went off the relationships I had already and what I thought would be most fitting for the concept.
Lucci Vee: I feel like all the right people who were supposed to follow through with the deal did.
FSD: Was this the original and intended lineup for WWA? Were there any other females involved at any point?
Chella H: The only female that wasn't able to execute the original plan was Shawnna, but it didn't interrupt any progress made within the project.
Sasha Go Hard: It was more female rappers on the line up as options to be apart of the project, but it ended up being just us.
Lucci Vee: It was other females offered, but everything happens for a reason and we came out with something cold.
FSD: How do you handle egos of the various members?
Sasha Go Hard: I rock with people who 100. I don't have time for nothing less.
Chella H: So far there's been no issues. We have great chemistry and everyone is valued and we have each other's back in areas that we may slip off in. I must admit, it's going smoother than I thought.
Lucci Vee: We haven't had that problem, we all just kick it and vibe. I actually had a lot of fun in the studio with them.
FSD: Will any other female emcees be on the project?
Chella H: Nah, for what? [Laughs]
Lucci Vee: Just us, why would we need more? [Laughs]
Sasha Go Hard: Naw, every song on the EP is just us four except one. But we really ain't do no features. We just did us.