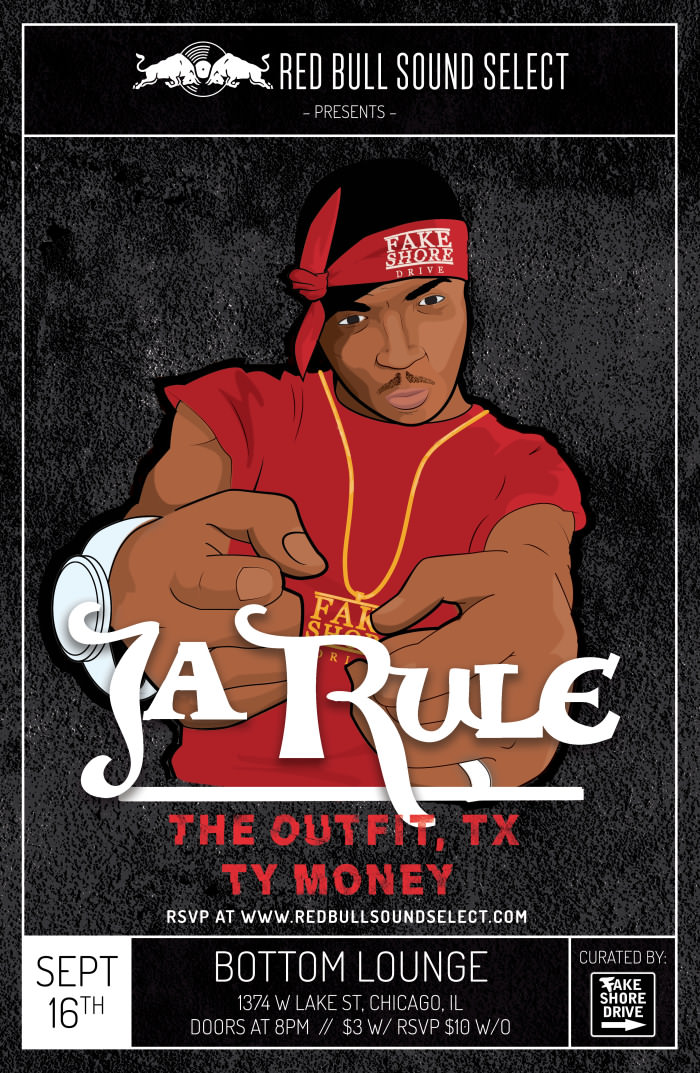 For our last Red Bull Sound Select show of the great year of 2015, it's the I-N-C and F-S-D. Together at last. Holla holla! That's right, we're bringing Ja Rule to Chicago for his first concert here in years. We kicked off 2015 with Cam'ron, and we're closing out strong with Mr. Pain Is Love. So per usual, this isn't something you'll want to miss. We're also hosting the show at a larger venue, Bottom Lounge, to make sure we can accommodate everyone.
THIS Wednesday, September 16th is the date. The show is $3 with an RSVP (RSVP HERE RIGHT NOW), and is an 18+ affair. The doors open at 8pm, and will featured Elz The DJ handling DJ duties for the duration of the evening.
For September, we welcome Ty Money into the Red Bull Sound Select program. His 2015 release, Cinco De Money, is one of the year's dopest and most critically acclaimed releases, so be sure to check that out if you haven't already.
We're also bringing some Texas talent into the fold for our final showdown of the year, as we'll be hosting seasoned Red Bull Sound Select vets The Outfit, TX on the Chicago stage. So be sure to show them some Midwestern love when they enter the town.
So what are you waiting for? RSVP now. We're going out with a bang, so keep an eye out for new announcements, promotions and take-away items.
Location: Bottom Lounge

Doors: 8pm

Age: 18+

Date: Wednesday, September 16th, 2015

DJ: Elz The DJ

Headliner: Ja Rule

Red Bull Sound Select Roster:
Ty Money,
The Outfit, TX
The first people through the door with receive a FREE limited edition Ja Rule t-shirt in collaboration with Red Bull Sound Select and Jugrnaut. These are very rare and will NOT be for sale. Arrive early and RSVP to ensure receipt.
We've also made a playlist for the Ja fans and stans out there. Hit the jump to check out our best of Ja mix, in order to get you prepped for the show. September 16th is the date. See you there.
But first and foremost, we're going to giveaway a couple pairs of tickets today via the site. Find out how to win below.
To win, you must correctly answer to the question below, and tag me (you must follow me so I can DM the winner) with the hashtag #FSDGiveaway  @fakeshoredrive must be included in your tweet to win.
Ja Rule has collaborated with many artists. Name one Chicago artist Ja has worked with and on what song?