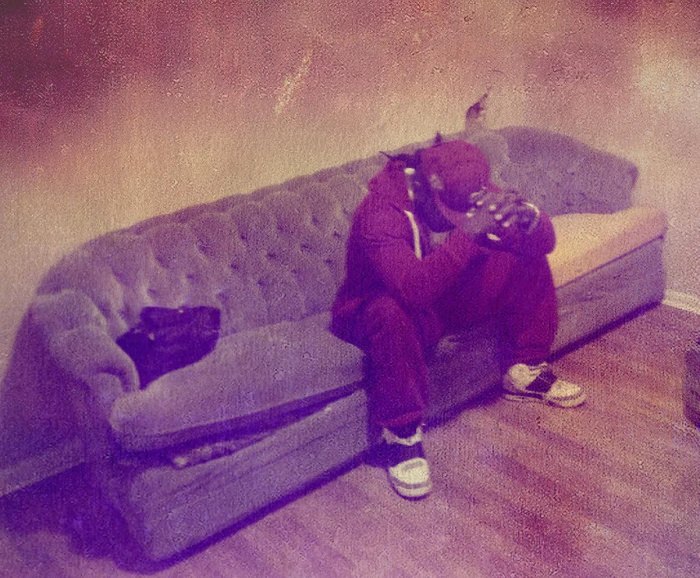 Words by Ryan Chandler (@NayrRyChi)
A lot can change in a year. During the summer of 2014, FSD had the opportunity to interview the courageously named Chicago artist, God. At the time, God had just released his debut (and controversially titled) project The Bible. Fast forward to Fall 2015, and few things have changed — but the is irreplaceable has stayed the same. New people, places, and experiences; but the same soul and vision.
I arrived at the interview location on a gritty two-way street on a surprisingly pleasant fall night on the south side of Chicago. I sat down with the Chicago rapper to discuss his creativity, latest project The Gospel, and his Chicago ways. I walked into the two story building and entered a dimly lit room: "What's good bro" a voiced called out.
There was God, sitting at a cluttered wooden table. He sat in florescent red joggers, a fresh fitted hat, and hair in two braids like you'd see in a Bone Thugs video. No posse, press, gang or gimmicks — just God sitting calm and composed. After walking over and exchanging greetings, I sparked up a conversation with one of Chicago's hottest up and coming talents.
FSD: What have you been up to since last year?
God: I've been here. Working. It's something about being in Chicago and the scenery that's just real dope. You have to know different environments. If a situation is too tight, it doesn't fit. Make your environment comfortable for you.
–
This was surprising. God works in good company to say the least. Most artists who've landed a solid debut project and worked with artist such as Juicy J, Wiz Khalifa, and 2 Chainz would be star struck and loving Atlanta and LA studio life. Not God. He spent the last year in Chicago working and creating from the energy around the city. On The Gospel tracks like "Gospel," "Block So Hot," and "Street Sweeper" display God's vivid creativity and vicious bars.
–
FSD: Where do you get your creativity from?
God: Growing up, my cousin played a big role in that. Also, my Pops was a song writer. He would sit at the table and write five or six songs a day. I would sit and watch. He was the lead singer in Public Announcement.
–
God then shared stories of growing up on the South Side, school days at the infamous Simeon Career Academy, and his journey as an artist. "Let's take a ride," God suggested we make our interview mobile. We exited the house into the hazy Chicago night and approached a brand new smokey grey sports car. Open and close the door, turn the radio to track one on The Gospel and skkrtt'd off into the night.
Looking out the window, I glanced at the scenery and streets that cultivate and have inspired God'S creativity energy. Chicago Cops tucking and ducking behind every other corner, blocks of poverty and wandering souls. What is a struggle for one, is a muse for God.
After pulling off the Dan Ryan expressway, we arrive at a location that is the textbook definition of trap house. We walk up the broken steps and entered through the police-raid-proof door. The scene was live and lit. People coming and going, bumping music, and a whole lot of energy. We sat on a couch with as many lumps as there were holes in the walls and continued our conversation.
–
[Click Below For Next Page]