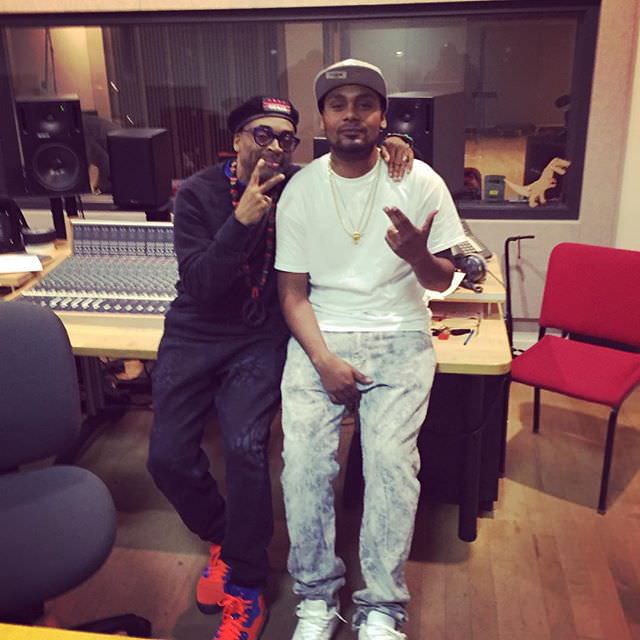 It goes without saying that Spike Lee's Chi-Raq film has been quite controversial. Perhaps the most controversial entertainment moment of Chicago's 2015 run. The response from Chicagoans has been less than stellar, with most artists and creatives showing extreme displeasure for Spike's depiction of the city. Many have taken it as a slap in the face for a city plagued with violence and tragedy. It's no laughing matter.
But on the flip side, a handful of working Chicago artists have taken part in the film and its accompanying soundtrack. Both Sasha Go Hard and Eryn Allen Kane were featured in the trailer, and a number of locals are rumored to have taken part in scoring and contributing music for Chi-Raq.
One confirmed contributor to both the film and the soundtrack is OTF representer Hypno Carlito, who shares screen time with the high profile cast, and also penned the official first single, Nick Cannon's "Pray 4 My City." Many took offense to Cannon being recruited for the single, but Hypno asserts the lyrics came from the standpoint of a Chicagoan. Today we caught up with Hypno to talk about the film, the soundtrack and how he got involved — his answers might surprise you. Check it out below.
FSD: What's your involvement in the Chi-Raq movie?
Hypno Carlito: I'm a songwriter. I wrote music for the film. It's something I always wanted to do, anyway.
FSD: Are you in the movie?
Hypno Carlito: To my knowledge, yes. I think I have a few extra scenes. Nothing major, just here and there.
FSD: How did you hook up with Spike Lee?
Hypno Carlito: I got a call last minute that music was needed. Everything [had to be created] from scratch. Twin Varney called me and I got there. No excuses.
FSD: Rumor has it you wrote the Nick Cannon single "Pray 4 My City." Did you think you were actually going to be on the song?
Hypno Carlito: I felt from the jump I wasn't. They knew who they wanted, I just did some background vocals to help the song. I thought they would add Jennifer Hudson or R. Kelly, but they ended up keeping my vocals, so that was cool!
FSD: Is there a reference track for the original version of the record? Will you be releasing it?
Hypno Carlito: I wish [laughs.] That's something everyone will always wonder, what did the original sound like? I listen to it a lot myself — both versions, actually. I like them both, but my version is for my ears only.
FSD: What are your thoughts on the controversy surrounding the song?
Hypno Carlito: I honestly think it's silly. Very foolish! I don't think Spike meant any harm when he figured out this was the movie. Chicago must do better. I even hate being here, having my kids here, but I love my city! It's not my city I dislike, it's the people — these people are cold in Chicago. I think people should give the movie a chance before judging. Either way, the movie will release and it's a Spike Lee joint. Blacks never wanna support blacks!